News
All the news from across UoM Sport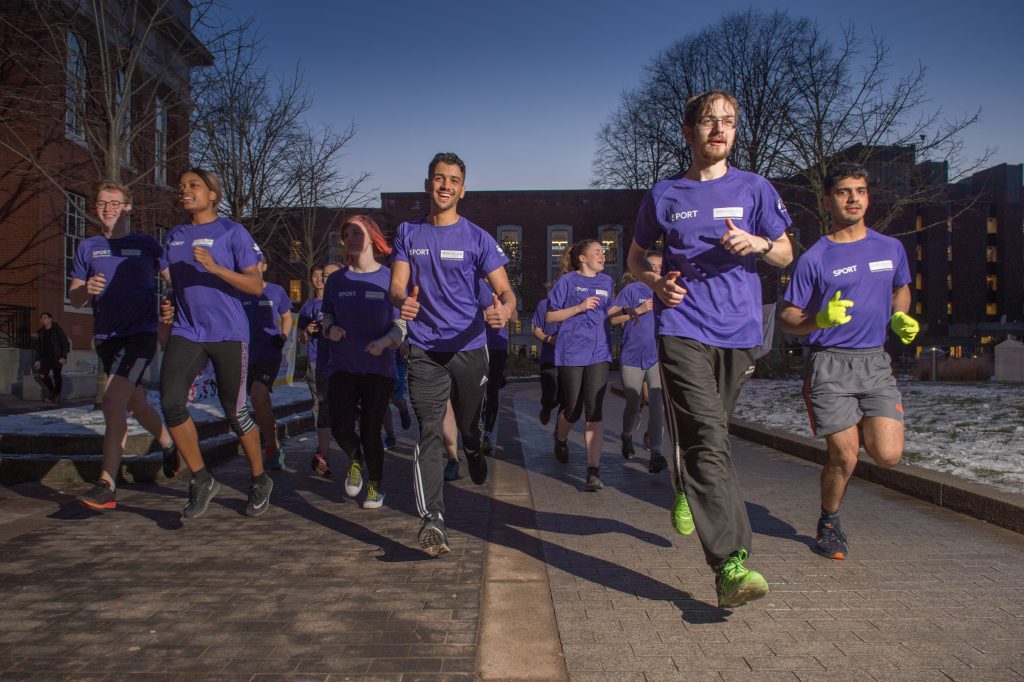 Sporticipate Update
With another week of massive changes for everyone to adapt to we must regrettably inform you that all indoor sports based sessions are now cancelled until further notice.
We can however, still deliver the organised internal Sports Leagues that take place on a weekly basis. Please take a look at the website to see how you can join a team, or set up a new team yourself! The leagues are getting ready to get going and we can make sure as many of you as possible can get involved.
Sporticipate Fitness classes, including HIIT and indoor cycle at Armitage are still permitted to continue, along with Kickboxing at Sugden.
All outdoor sessions are still continuing and we will also continue to add sessions where we can to provide you with activities to safely engage in.
Sporticipate Timetable 2020-21
View the latest Sporticipate timetable here: Sporticipate Timetable
This will change as we develop and add to the programme, so make sure you are keeping up to date, we have got lots more that Sporticipate can bring you!
Registration on Playwaze
Please read the instructions below regarding Playwaze, we are aware that some people have been turning up to sessions thinking they have booked on and not actually been confirmed as 'attending' Full details on how to register for all sessions, including those not on Playwaze are provided on our website. You can find the links under the 'Register for sessions' drop down menu. 
Key information for attending sessions
A session leader will be there to check that you are registered to attend.
Please do not just turn up, you won't be allowed to join the session. Your name must be on the register.
Please download the NHS Track and Trace app and check in at each venue that you attend. There will be QR codes at the entrance. This is in addition to registering for Playwaze, but it is good practice for entering any venue.  
Please bring your mask, you will be required to wear it when you are indoors at any venue when you are not taking part in session. This will be in reception areas, waiting to get into the sports hall and accessing toilets.
Hand sanitiser will be available at the venues but we advise that you bring your own to make things easier for you.
If you have your own equipment e.g A Badminton racket, then please bring it. Where possible we want to reduce people sharing equipment.
How to Join a session on Playwaze and get involved!
Hopefully you have all downloaded the app and joined our Sporticipate community? If not the direct link is here.
Please register using your university email address. It makes thing much easier for you as you are automatically added to the University of Manchester organisation. Sporticipate is one of the many communities within the organisation, including Athletic Union clubs and Campus Leagues.
Once you have joined the Sporticipate community you can search for 'Activities'. You will see the full list of our session that are taking place.
When you have found your session you can book your place by clicking on 'sign up'.
Once signed up to a session you then need to click on 'attending' to confirm your place. Please note that you will not be automatically attending if you don't do this step!
Sessions have limited capacity (especially indoor activity) please don't be disappointed if you miss out on a session and hopefully you can attend the following week. There are also waiting lists which can be moved into the session should anyone make themselves unavailable.
Once signed up make sure you read the session details, there will be full location instructions, along with details on what to bring. Session leaders will also post comments on there if there is anything to update.
#ActiveAnywhere Campus runs
We would also like to encourage people to remain active and we have included some running route information in this email. These are planned routes, working alongside Run Wild MCR that start and finish on campus locations close to you. Full details can be found on our website, along with additional running groups delivered by Run Wild on a weekly basis (part of the Sporticipate timetable).
Click here to download maps and find out more about Running on Campus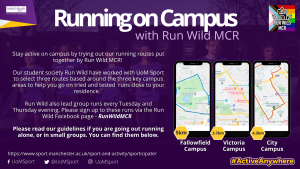 Have a great weekend everyone!
Sign up here for weekly Sporticipate email updates!