News
All the news from across UoM Sport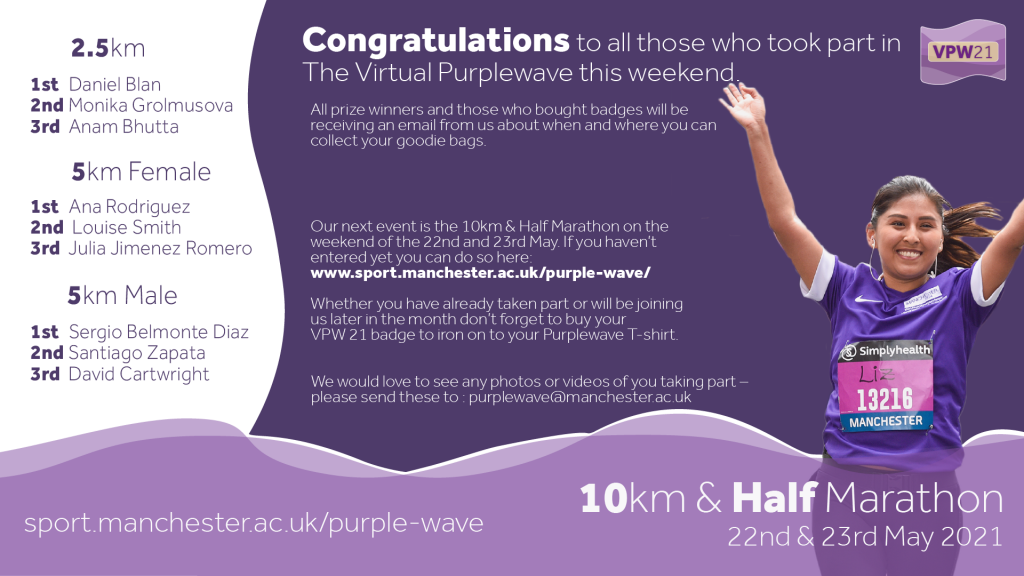 2.5km & 5km Virtual PurpleWave Results
Congratulations to all those who took part in the UoM Virtual Purplewave this weekend! 
We hope you managed to find a gap in the weather so you could enjoy our first Virtual event of 2021! Despite the poor weather we saw many of you taking part. Here are our top 3 participants from each category. 
2.5 km
Daniel Blan
Monika Grolmusova
Anam Bhutta
5 km Male
Sergio Belmonte Diaz
Santiago Zapata
David Cartwright
5 km Female
Ana Rodriguez
Louise Smith
Julia Jimenez Romero
All prize winners and those who bought badges will be receiving an email from us about when and where you can collect your goodie bags.
We would love to see any photos or videos of you taking part – please send these to : purplewave@manchester.ac.uk
Our next event is on the weekend of the 22nd and 23rd May and will for distances of 10Km and Half Marathon. If you haven't entered yet you can do so here.
Whether you have already taken part or will be joining us later in the month don't forget to buy your VPW 21 badge to iron on to your Purplewave T-shirt. 
#PurpleandProud #VPW2021