News
All the news from across UoM Sport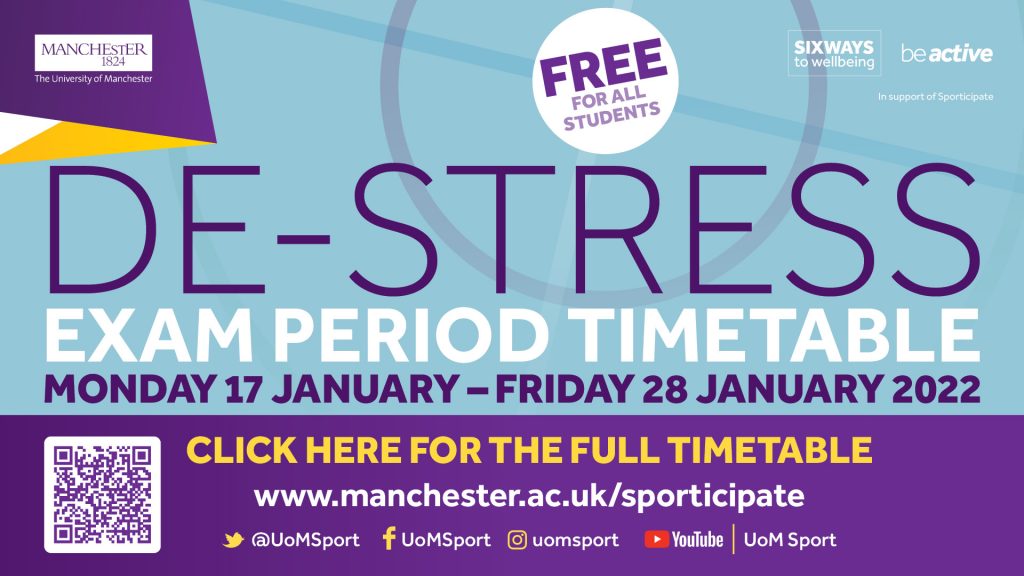 FREE Exam De-Stress Timetable
Looking to get out from behind the desk and get active? Sporticipate is here to make sure that you are staying active and well over the exam period.
We have a De-Stress timetable running from Monday 17th to Friday 28th of January, so kick off the cobwebs and revitalise your revision, with lots of FREE sessions on offer to help you refresh, unwind and recharge! 
It is important to stay active and healthy and look after your wellbeing over the exam period. With a range of fitness and wellbeing activities like yoga, tai chi, boxercise and more, as well as a selection of outdoor sports activities, we have something for everyone. Sessions are open to both students and staff, so book today – spaces may fill up fast! Not sure about going to in-person classes? Do not worry – we also have virtual sessions on offer over Zoom, so you can de-stress form the comfort of your own home.
All our sessions can be found on our Sporticipate Playwaze Community. Log in with your existing account or create a new account with your University of Manchester email address to join.
Click here to view the full timetable, where you can follow the links to book onto individual sessions.
On behalf of UoM Sport we wish you the best of luck in your exams and hope you enjoy our De-Stress Programme!