Purple Wave Great Manchester Run 2023
Purple Wave Great Manchester Run 2023!
Countdown to race day! All the important information you need.
The main event in the UoM Purple Wave calendar is approaching – the Great Manchester Run 2023. On Sunday 21st May, UoM students, staff, alumni and community runners will come together to turn the streets of Manchester purple! There are two events taking place on the day – the 10k and half marathon.
We can't wait to see you on the day! Good luck to all our Purple Wave runners!
What should I bring? Your race day checklist:
Purple T-shirt 

 

Race pack with your number (timing chip is attached to your number – DO NOT REMOVE THIS)

 

Safety pins for your numbers

 

Water for before and after the run

 

Warm clothes to change into after the run

 

Lots of motivation!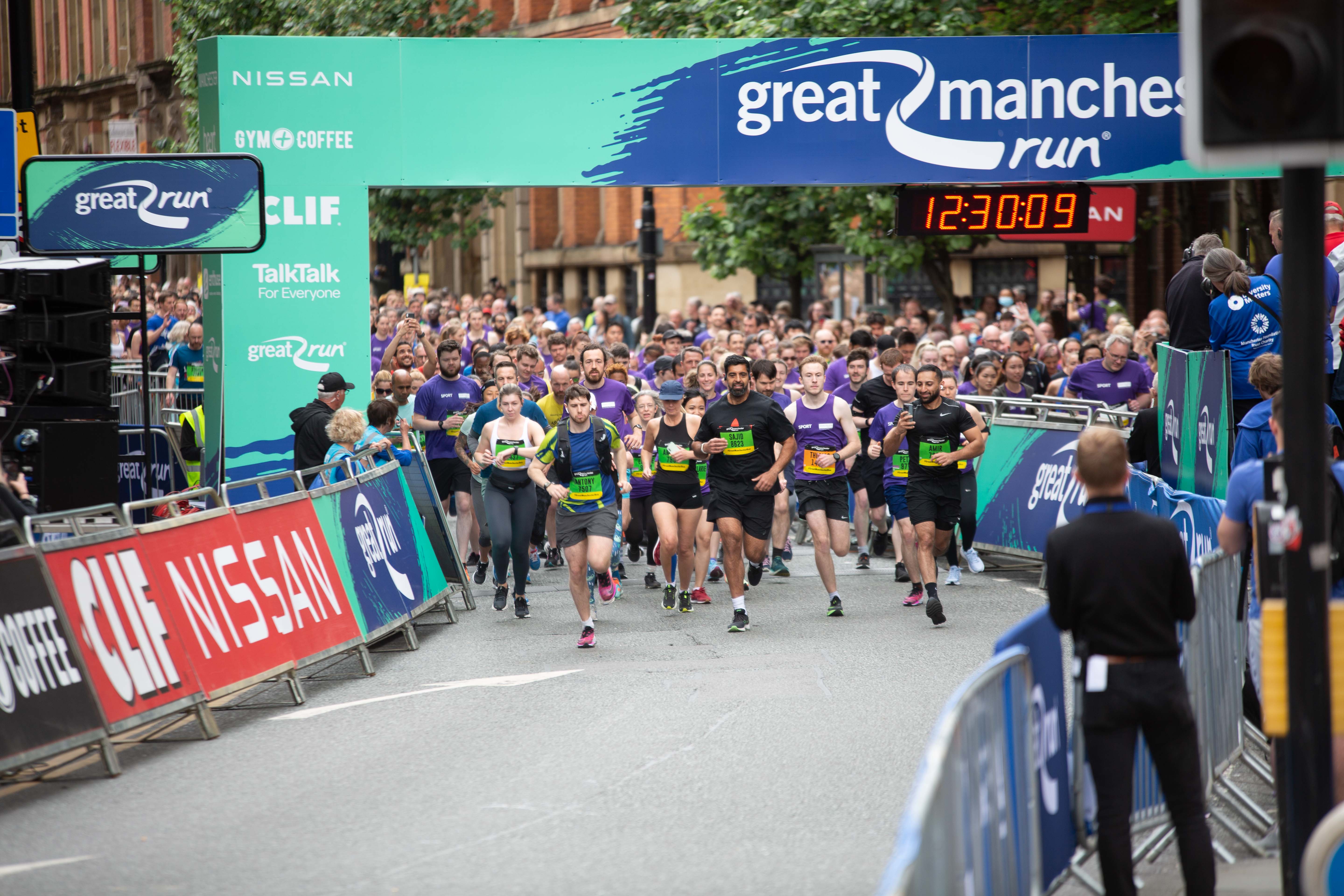 Race day schedule and start times  
Half marathon:
FROM 8AM: Half Marathon Runners meet at the Pendulum Hotel. Our team will be there to welcome and greet you in our own UoM Purplewave area. 

8:20AM: Half marathon warm up

8:30AM: RED start time (your start time will be clearly written on the back of your race number)

8:47AM: ORANGE start time (your start time will be clearly written on the back of your race number)
10k:
FROM 8AM: Half Marathon Runners meet at the Pendulum Hotel. Our team will be there to welcome and greet you in our own UoM Purplewave area. 

 

10:50AM: 10K Purple Wave group leave for to start line meet up

https://goo.gl/maps/XeKHCBUg7uxGKUci8?coh=178572&entry=tt. UoM Purplewave meet point is not the main GREEN meet area as this is on the other side of Portland Street. We will all stay together. 

 

11.20AM: 10K Warm up for all – our group will move onto Portland Street starting area 

 

11.53AM: 10K Official start time!

 
Meet point  
We are looking forward to meeting you at the Pendulum Hotel on Sackville Street. Here you will be able to leave baggage, meet friends, ask questions, use the toilets etc  
REFRESHMENTS  
The café in the hotel is easily accessible from the room we are meeting in and there is an outdoor area attached. This would be perfect for a pre-race coffee or a post-race bite to eat.  
Take a look at the Pendulum Garden Bar Menu. 
Find out about the drinks menu. 
All the water in the hotel taps is drinking water and you will also be able to have your water bottles refilled at the bar in the café. Please note there are not water fountains at the venue.  
BAGGAGE DROP  
At the Pendulum, you may leave your personal things in a designated location. Since there isn't much room here, please bring as little as possible.  
PLEASE NOTE BELONGINGS ARE LEFT AT OWNERS RISK  
There is no parking available at the hotel; instead, we advise you to take the bus, bike or lift wherever possible. On the North University, you will be able to access bike racks. If you'd like to park at one of the University carparks, you can access Charles Street.
See how you can access car parks near and on campus.
MASSEURS 
The Manchester School of Beauty will offer massages before and after the event. These are free, but if you'd like to, you may donate to The University of Manchester's cancer research campaign.   
FACE PAINTING  
To complete your racing attire, our volunteer face painters will be on hand to add some go faster stripes or the famous Manchester Bee.  
T-shirt collection
For those who have not run the event before, or those who feel they need a new one, we will also be providing the Purple Wave T-shirts to all Purple Wave entrants. 
The final chance to collect T-shirts will be from the Students' Union – 11am – 2pm Tues 16 and Wed 17 May. 
We'd love for you to collect your t-shirt before race day. If you like you can send a friend or colleague to collect your t-shirt, they will need to know our entry name. Where this is not possible, we will have a selection of t-shirts available at the Pendulum Hotel meet point on the day – but please be aware we cannot guarantee your preferred size will be available.  
If you are running for a charity and want to wear their t-shirt that is fine, but we ask that you at least wear a purple shirt on the start line before the race so we can get maximum impact in the photos and on the TV. 
Cheer Point
On the route, racers will pass the Purple pit stop on White City roundabout in Old Trafford, also known as the Cheer Point.  
You can find this at https://what3words.com/waving.puff.wiped 
The quickest and easiest way to get to the cheer point is to take a tram headed towards Eccles or Media City and get out at Pomona; from there, it's just a short walk up to the main road and the Cheer Point.  https://goo.gl/maps/ApCiqbZii4h4rY4c6 
We'd love people to bring whistles, bells, pan lids, wooden spoons, or anything else that can create a noise to cheer on the runners. We will have a gazebo and music to keep our runners motivate.  
Send your supporters to this point if they plan to watch the event so that we can have the biggest impact possible. 
The cheer point will be in place from 8.30am to welcome the Half Marathon runners and we will be there until our last runners have passed through at 3pm.  
We are looking for cheer point managers, general volunteers and cheerers, and people to help with set up and breakdown. All opportunities to volunteer can be seen and joined here.