BUCS Nationals 2023 - UoM Sport Success!
UoM Athletes competed at BUCS Nationals this past weekend in Sheffield
From Friday February 24th to Sunday February 26th, UoM Sport had student athletes competing across all four sports at BUCS Nationals in Sheffield, where a record of 3,191 competitors gathered from fellow BUCS universities around the country. On Friday we saw Long Course Swimming and Para Swimming (Located at Ponds Forge), Indoor Athletics and Badminton (Both located at the EIS Sheffield) kick off the weekend of competition. Saturday the 25th was the sole day of competition for Climbing (Located at Climbing Works).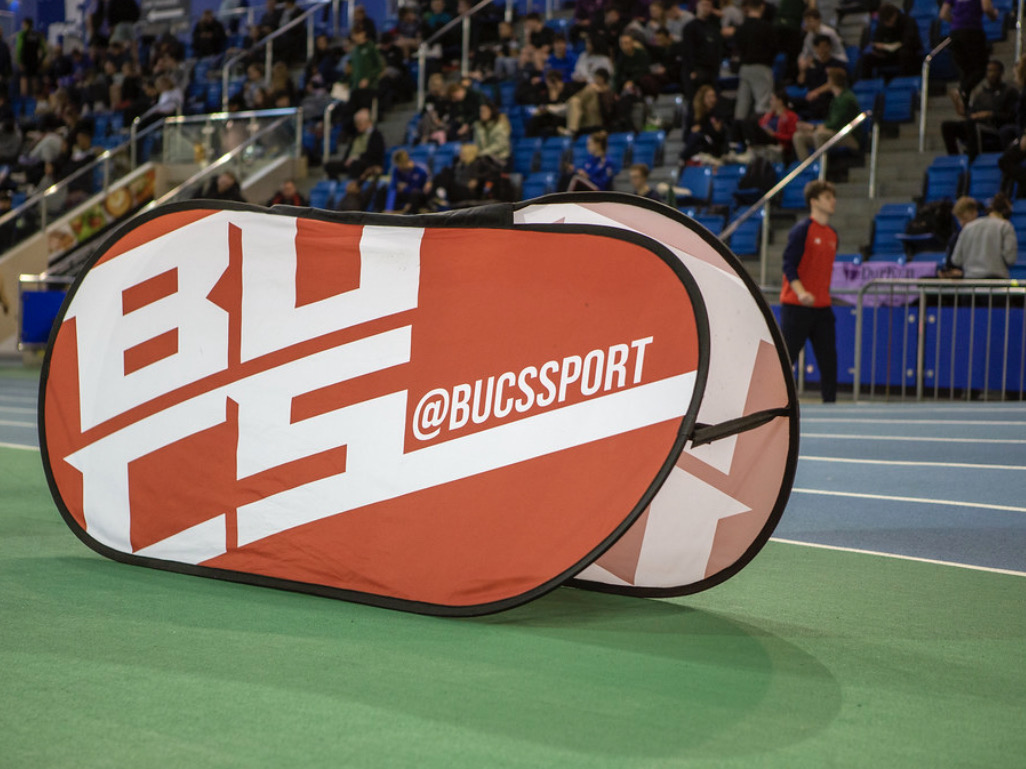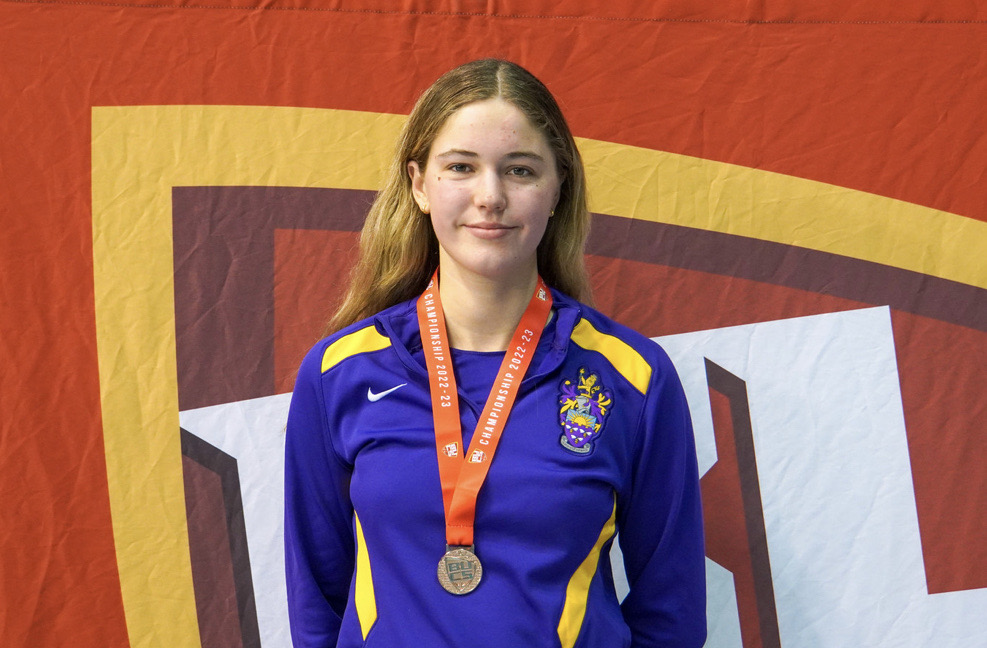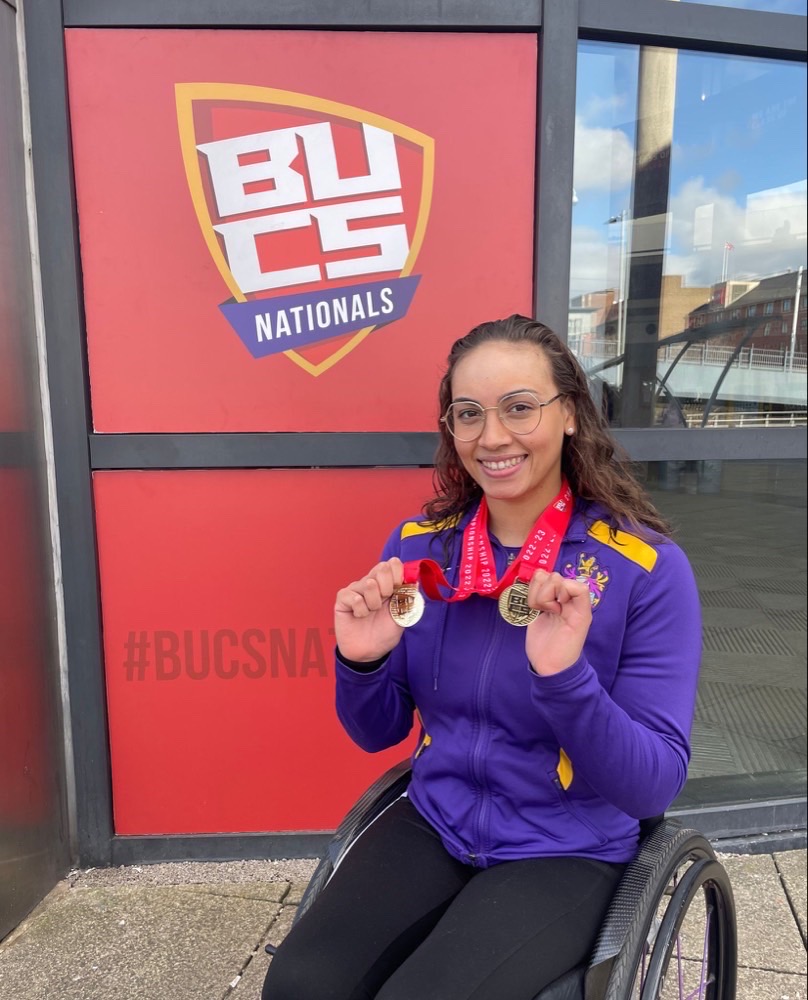 Swimming and Para Swimming
At Ponds Forge, we saw some great races and a number of A/B Final Qualifiers. On Friday, we saw Manchester putting forth teams for the Women's and Men's 400m Freestyle Relays, achieving 13th and 14th respectively, and from the Mixed 400m Medley Relay came a 7th place finish. UoM Sport athletes continued competing in a range of events, which are all listed at the bottom of the article.
Across both Saturday and Sunday, Sport Scholar Sophie Shaw (pictured left top) competed in 3 Backstroke events, and got 5th overall in the 50m, 5th in the 100m, and secured an impressive 3rd place medal in the 200m. This is Sophie's first year as a UoM Student and as a Sport Scholar, and we can't wait to see what her future holds! And the impressive swims didn't stop there at Ponds Forge, our amazing Sport Scholar Grace Harvey (pictured left bottom) took home two gold medals in the Women's MC 200m IM and the Women's MC 100m Breastroke. Over the past couple of years, Grace has competed internationally at the Paralympic Games and at the Commonwealth Games, where she has also won medals for her incredible performances in the MC 100m Breastroke. 
Athletics
On the Indoor Athletics Track at EIS, we saw some standout performances from those within UoM Sport's Athletics programme. The following students competed within their specialized events, found below.
In the Men's 400m, Tom Hunter secured a spot in the A final as he very impressively place first in his semi-final race after a mad-dash at the finish. Sport Scholar Bronwen Reed (action pictured right) easily secured her spot in the Women's 400m A final, coming 5th against a stacked A final of incredible female athletes. Take a look at our pre-final interview with Bron on our instagram @uomsport!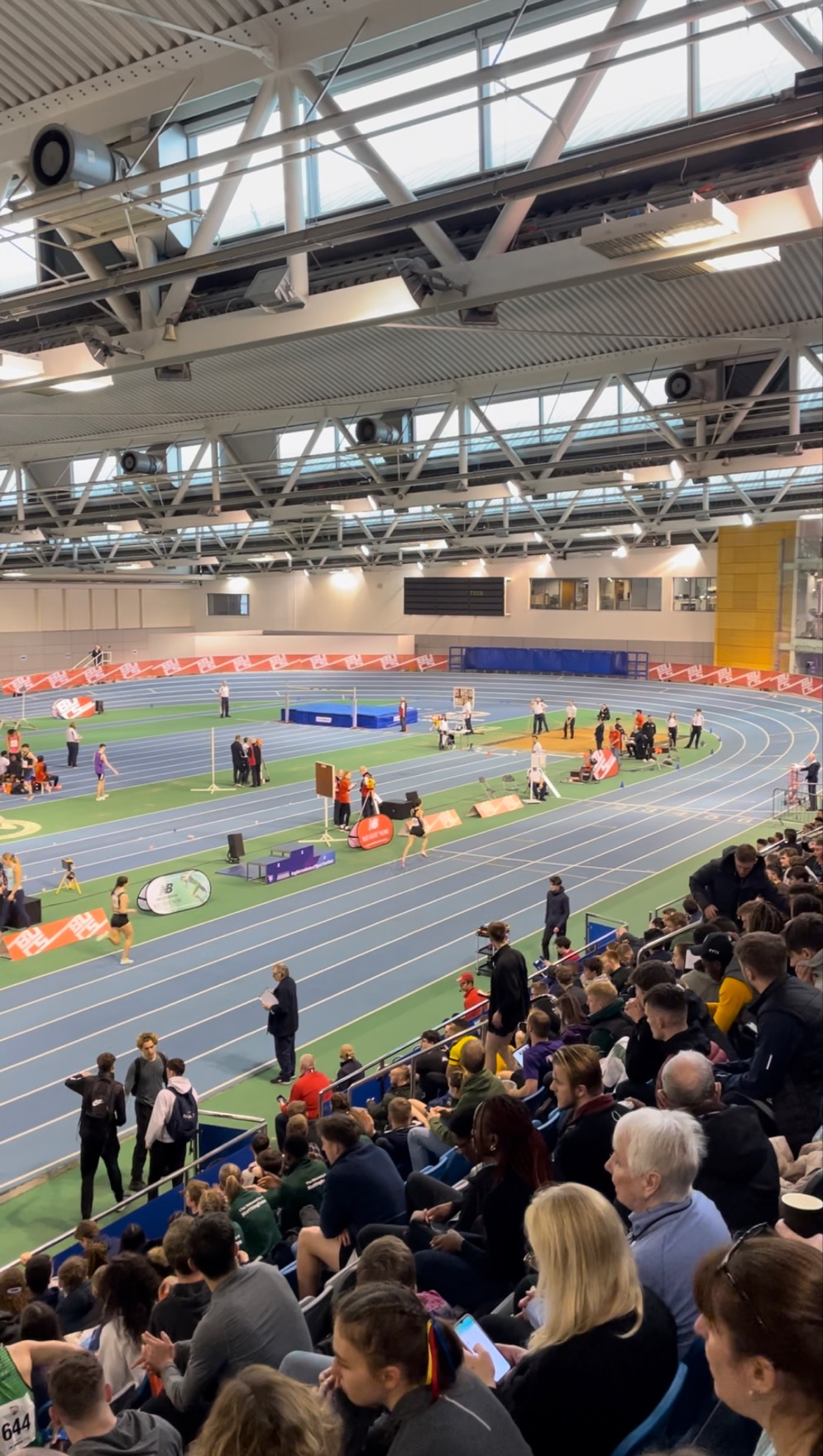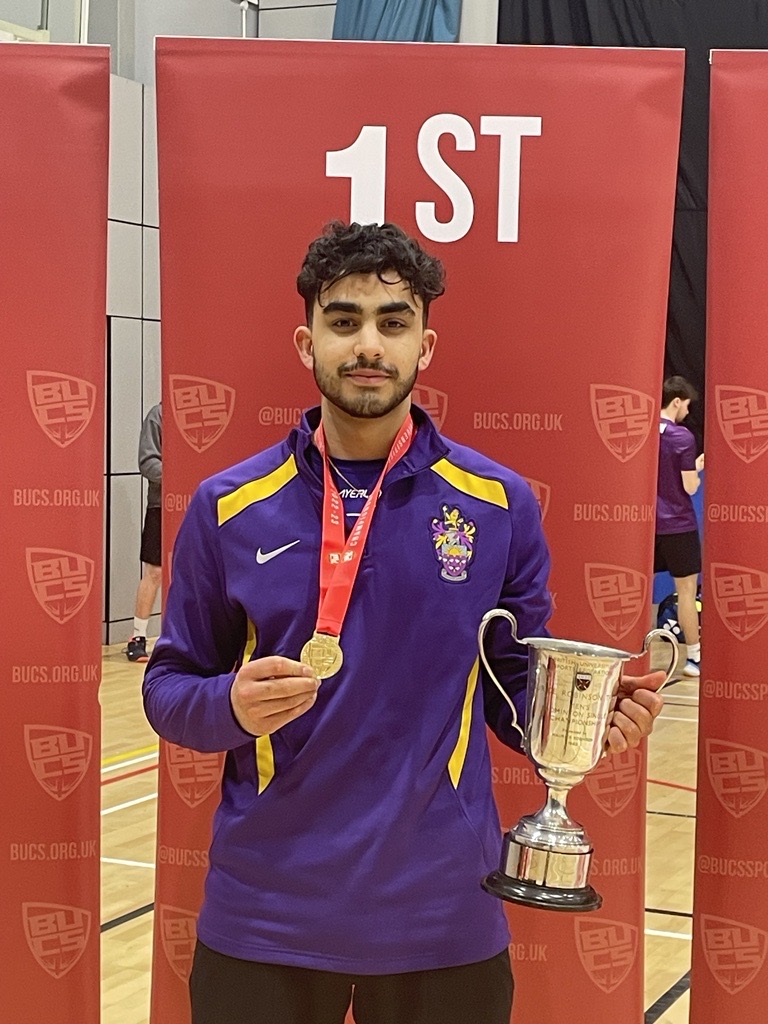 Badminton
From Badminton, we had athletes competing across all specialties, Men's Singles (MS), Women's Singles (WS), Men's Double's (MD), Women's Double's (WD), and Mixed Doubles (XD). Amazing work from everyone who competed over the weekend!
Sport Scholar Cholan Kayan (pictured left) took home an impressive 1st Place and Gold Medal in the Men's Singles category after being seeded 1st overall, winning in 2 straight sets against his 2nd seeded opponent, Samuel Ricketts from University of Warwick. Cholan stated in an interview with UoM Sport staff when asked about how the weekend had been going so far that 'It's been amazing, I love playing in this tournament because the atmospheres great and there's always many people in the crowd". Last week Cholan went to the Europeans on the Reserve Team for England Badminton and will be competing in another tournament next week in Portugal after securing the win this past week. 
Climbing
Across the city from the rest of the events, the Climbing events took place solely on the action-packed Saturday, where we had some great UoM reps competing in the evening. On Saturday, universities were allocated one of three session times where all of their athletes would compete, and UoM Climbers Lu-Chin Lily Chang, Shun Kiu Yip, Anna Wild, Louis Nieuwoudt, and Douglas Spencer tackled the last session of the day.
Sport Scholar Doug Spencer (pictured right) was a standout competitor, and narrowly missed out on the competition finals, but as a first year and a first year scholar, we can't wait to see what he will climb in the coming years!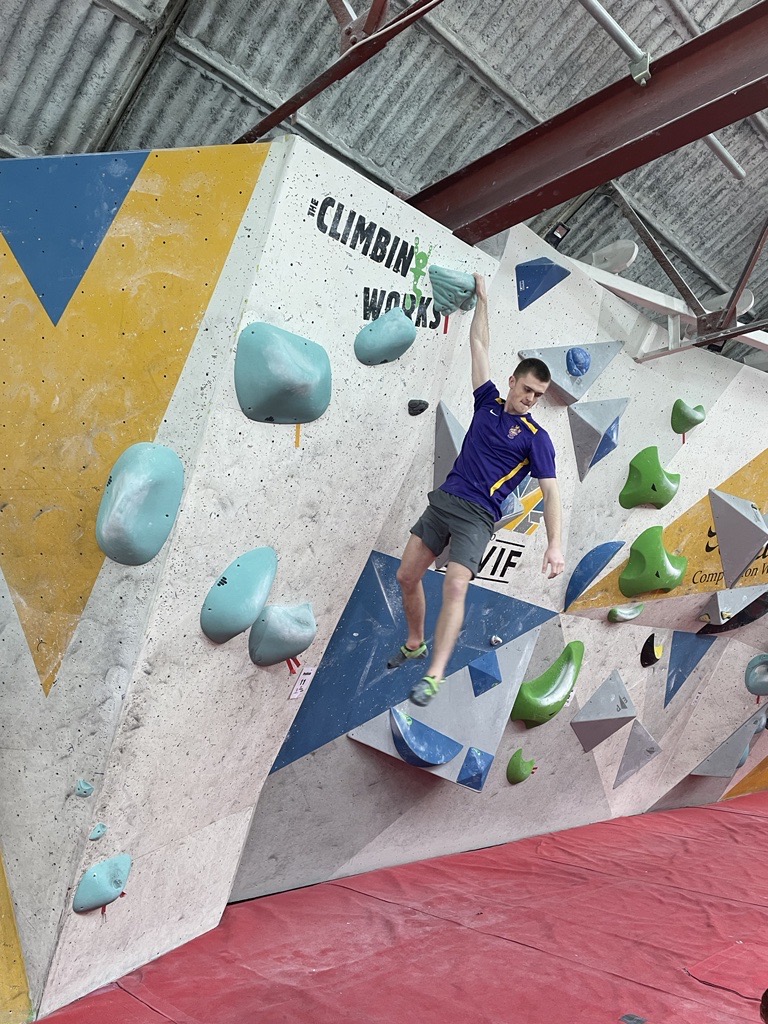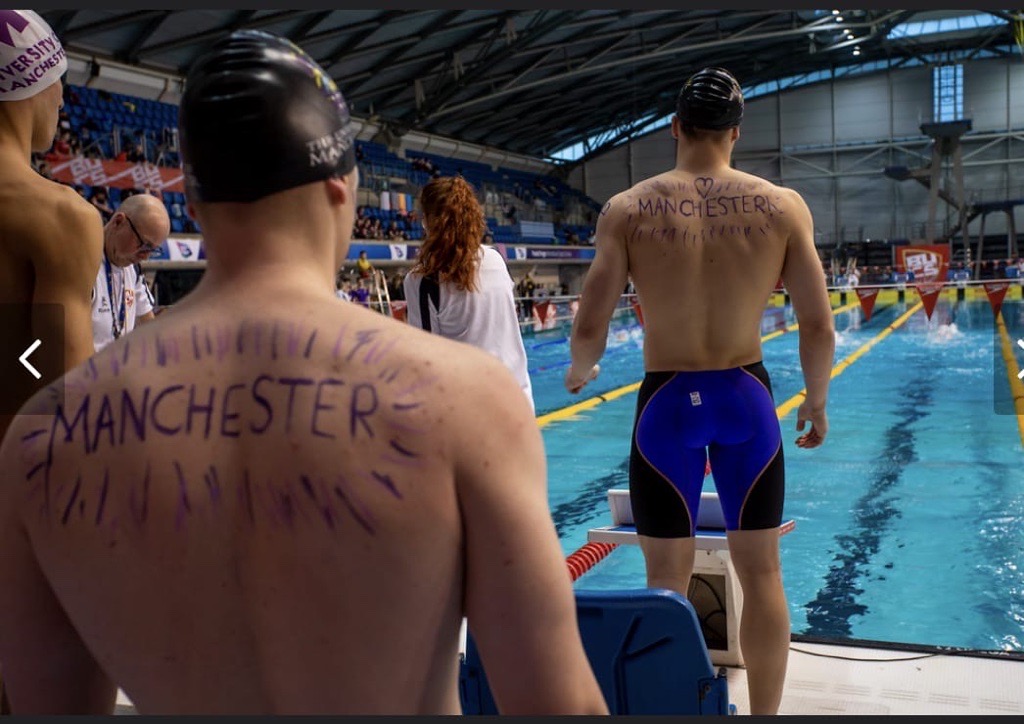 It was an amazing year at BUCS Nationals, and we can't wait to see our athletes improve and compete in the years to come. Full lists of athletes who competed are below.
Check out the @uomsport Instagram to see some of the coverage of the weekend, as well as some interviews with our scholars!
Swimming
Women's 200m Freestyle: Amy West // Men's 200m Freestyle: Julius Bennett, Christos Manoli // Women's 50m Backstroke: Poppy Crawford, Sophie Shaw // Men's 50m Backstroke: Guus Verkade, Alex Catton // Women's 50m Breastroke: Maddie Good, Denisa-Elena Gogu // Men's 50m Breastroke: Freddy Lyne, Ioan Delahay // Men's 100m Butterfly: Christos Manoli, Tom Poulton //  Women's 400IM: Abby Parkinson // Women's 200m Backstroke: Sophie Shaw // Men's 200m Backstroke: Tom Poulton // Women's 50m Freestyle: Maddie Follis, Emma Moore // Men's 50m Freestyle: Guus Verkade, George Whiting // Women's 200m Breastroke: Denisa-Elena Gogu // Men's 200m Breastroke: Freddy Lyne // Women's 100m Freestyle: Abby Parkinson, Amy West // Men's 100m Freestyle: George Whiting, Christos Manoli // Women MC 100m Breastroke: Grace Harvey, Maddie Good, Denisa-Elena Gogu // Men MC 100m Breastroke: Ioan Delahay, Freddy Lyne // Women MC 200m IM: Grace Harvey, Emma Moore, Abby Parkinson // Men MC 200m IM: Guus Verkade, Tom Garner // Women MC 50m Butterfly: Erin Birney // Men's MC 50m Butterfly: Tom Garner, George Whiting // Women MC 100m Backstroke: Ellie Ritchie, Sophie Shaw // Men's MC 100m Backstroke: Alex Catton, Tom Poulton // Men MC 400m Freestyle: Rory Tieterna
Athletics
Men's 60m: Abraham Orekan, Tariq Wild // Men's 200m: Gerard Campbell, William Thorp // Men's 400m: Tom Hunter // Men's 800m: Tom McKeveney, Luca Buckley McDonald // Men's 1500m: Joshua Morgan // Men's Long Jump: N'Adoi Aboagye // Men's Triple Jump: N'Adom Aboagye // Women's 60m: Ella Francis, Hannah Owen // Women's 200m: Hannah Owen // Women's 400m: Bronwen Reed // Women's Long Jump: Michelle Karen
Badminton
MS: Cholan Kayan // WS: Robyn Haysom, Marsha Laksono, Janaki Patil // MD: Mathew Parampil & Robert Sokman, Cholan Kayan & Yixuan Shen, Tech Onn Ding & Vinira Wijesuriya // WD: Mia Hillsden & Mengqing Tang, Marsha Laksono & Xiarui Zeng, Mallie West & Tabitha White // XD: Nikhil Chotai & Robyn Haysom, Kyaw Lwin Latt & Xiarui Zeng, Yixuan Shen & Mengqing Tang