Swimming
Everything you need to know about swimming at the University of Manchester.
About
We have a broad range of opportunities to get involved in swimming at The University of Manchester with everything from drop in sessions to high level university competition with our University of Manchester Swimming Club.
All the information you need to know about swimming should be here but if you do have any further questions, we would love to hear from you.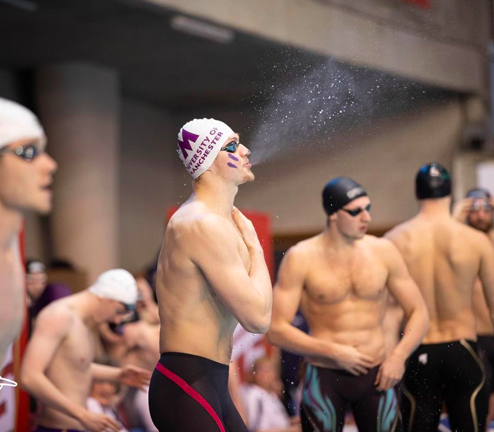 Sporticipate Sessions
Our recreational sport offer is entitled Sporticipate, and is the entry level programme for all students and staff at The University of Manchester.
All sessions, programmes and events are open to all abilities, specifically people who are new to the activity or complete beginners. All sessions provide equipment and the sessions are facilitated by the UoM Sport Workforce.
Sportcipate runs a full weekly drop in timetable, structured blocks of 'Learn To' coached sessions and regular large scale events. All are either free or at very low cost, which helps you stay fit and active during your time on campus.
Sporticipate information
Find out more about our sporticipate sessions and activities.
Swimming Club
The Swimming Club is one of the largest sports clubs at the University – we had nearly 140 members last year! We pride ourselves on being welcoming and inclusive to students of all backgrounds and abilities. As such, the club is made up of two parts; the Competitive Squad and the Recreational Squad.
The Competitive Squad competes for the University at 2 BUCS Championships at Ponds Forge Sheffield, BUCS Teams, Christie Cup and our annual charity gala 'Quest for the Crest'. Last year they came 9th at BUCS short course and 11th at BUCS long course, cementing their position as one of the top teams in the country. They train three times a week in the pool with an additional land training session on a Saturday.
The Recreational Squad caters for swimmers of all abilities that have a desire to improve their swimming and have fun! They train twice a week and are encouraged to join the competitive squad at the Saturday land training session. They also have the opportunity to compete in 'Quest for the Crest' and other galas throughout the year.
Club Philosophy
We are a sports club that's passionate about having fun whilst performing at our best. We believe that team spirit and supporting each other are highly important for gaining the best results no matter the standard of the swimmer. In our squad, effort and attendance to training and socials are highly regarded as well as the competitive ability of the swimmers. We have achieved great results in previous years with very strong teams including swimmers that have competed individually at high levels. We want everyone to feel part of the swimming family in and out of the pool through both our sporting and social events. Integrating the squads is extremely important to us to create a fun and inclusive environment. This is achieved by training at the same time whilst also holding weekly social events throughout the year.
Club Training Times and Venues
Training times and venues will be confirmed soon.
Teams
Competitive: Mens A, B and C Teams and Womens A, B and C teams
Club Memberships
Membership details will be confirmed soon.
Contact Swimming Club
Get in touch with the club and see how you can get involved.
Find out more
Find out more about our clubs and what we do at the University of Manchester.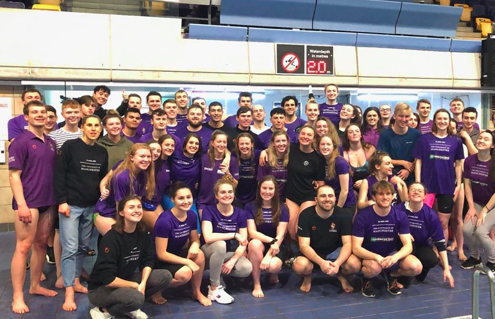 Sport and Activities
See our wide range of opportunities to get involved and be active in Manchester.
Sport A to Z
View our A to Z of all the sports that we offer at Manchester.
Activities A to Z
Take a look at all the activities we offer to get you more active at Manchester.