MCR Sports Awards 2023: UoM Sport Nominations
MCR Sports Awards
We are delighted to announce that we have been nominated in three categories at this year's MCR Sports Awards 2023, a testament to our dedication and commitment to promoting sporting excellence in our community. This year's grand celebration will take place at the well-known Kimpton Clock Tower Hotel on Saturday, 4 November 2023, where we will join sports stars, local athletes, dedicated coaches, and thriving clubs from across Manchester for an unforgettable evening.
The Manchester Sports Awards celebrate the exceptional commitment and remarkable achievements of individuals, groups, coaches, schools, and organisations in the local sports and physical activity community. This annual event reflects the ongoing success of Manchester's community sports and provides a platform to recognise those who consistently surpass expectations, uniting the community in celebrating their outstanding journey.
Community Sport Project of the Year
Sporticipate's nomination is a testament to its exceptional work in introducing new students and staff to the world of sports and physical activity. Through its innovative initiatives, Sporticipate has not only encouraged participation but has also played a vital role in promoting overall wellbeing. The programme's support of student leaders who drive its success adds another layer of significance to this nomination, highlighting the development of leadership skills and the sense of community that it promotes.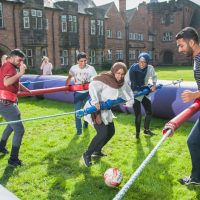 Young Volunteer of the Year
Siddharth Mahala's nomination for Young Volunteer of the Year recognises his invaluable contributions to the Tennis Club's remarkable success. His dedication and support have been instrumental in helping the club achieve their outstanding accomplishments. In addition to his role within the Tennis Club, Sid's efforts on the Sports Executive as a Fundraising Officer highlight his commitment to enhancing the overall sports experience at the University. His passion and tireless work ethic have made a significant impact, both within the club and the broader sports community, making him a deserving candidate for this prestigious award.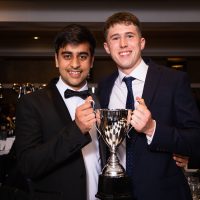 Sports Club of the Year
The Tennis Club's nomination for this award reflects their outstanding achievements in many areas. Their commitment to increasing participation has made a significant impact, making the sport accessible to a wider audience. Their remarkable sporting performances have brought pride and recognition to the University. Notably, the club's charitable fundraising efforts showcase their dedication to giving back to the community and making a positive difference beyond the tennis court.
"These nominations demonstrate The University of Manchester's commitment to sporting excellence that is sector leading in a number of aspects across our region. It signifies our versatile impact across many elements of sport, community engagement, and active participation. This recognition inspires us to continuously improve our programmes and facilities to help promote an active lifestyle for all across our communities. Congratulations to all the nominees for their outstanding accomplishments."
 James Marenghi, Sport Programmes Manager 
Don't miss out on this opportunity to pay tribute to our local sporting heroes. Follow us on social media to hear about our successes.
Sport A to Z
View our A to Z of all the sports that we offer at Manchester.
Activities A to Z
Take a look at all the activities we offer to get you more active at Manchester.