Wellbeing Rooms
Your place on campus to be active or chillax in spaces that have been designed to create a place for students and staff to exercise, relax and rejuvenate.
About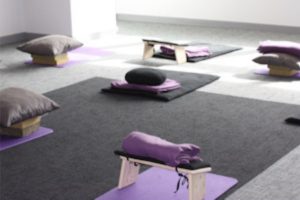 The Wellbeing Rooms are used mainly by staff and students who take part in the Be Active and Wellbeing programmes. It is also a central hub for the annual 'Wellbeing Week' events which is a joint venture between UoM Sport, The University of Manchester Counselling Service and Human Resources.
The Wellbeing Rooms are located in the Simon Building on Ground floor and First floor; and in Sackville Building in Room H11.
We have two large activity studios, a lounge area and treatment room which houses our Physio and Masseur Clinic on the ground floor.  On the 1st floor we  have a chillout bean bag room and large group room where the counselling service offer various workshops and regular group meetings.
Simon Building Facilities
Two large activity studios
Lounge area
Treatment room
Chillout bean bag room
Counselling service large group room (1st Floor)
Opening hours
Dependant on timetabled activities
General facilities may be accessed during standard university building opening hours
Prices
Prices vary based on activities taking place
Please see timetable for further information on available activities and associated prices.
Accessibility
Disable Access
Disabled Changing
Disabled Toilets
Lift
https://www.accessable.co.uk/the-university-of-manchester/access-guides/sackville-building
https://www.accessable.co.uk/the-university-of-manchester/access-guides/simon-building-manchester
Join online
Join the activities taking place in the Wellbeing Rooms with Active Manchester Memberships.
Timetables
View our Active Manchester timetable for activities.
Sport and Activities
See more sport and activities we have available at the Wellbeing Rooms and more widely across UoM Sport.
Address
Simon Building
Brunswick Street
Manchester
M13 9PS
Sackville Street Building
60 Sackville Street
Manchester
M1 3QE
Contact Us
0161 306 9988
sport@manchester.ac.uk