Wythenshawe Sports Ground
Located just 4 miles from the city campus in Manchester, it is one of the largest grass areas in the UK which is solely dedicated to football.
About
The University of Manchester temporarily ceased operation of all sports facilities on March 17th 2020 following Government instructions relating to the COVID-19 pandemic. Prior to this the University had already been considering its position in relation to the future operation of Wythenshawe Sports ground, due to decreasing student usage. The current situation, forcing a temporary closure of the site, has further underlined the need to make a decision.
Unfortunately the site will not re-open as a University of Manchester operated facility.
 Therefore, no future bookings will be taken by the UoM Sport bookings team.
The University is however, looking into all other possible options to support the continuation of use of the site for sport and events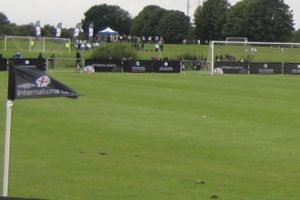 Facilities
The University of Manchester no longer operates WSG facilities.
Opening hours
This site is no longer operated by the University of Manchester.
Wythenshawe Sports Ground is currently CLOSED
Prices
Pitch hire per match
The university of Manchester is no longer taking bookings for this site.
Events and Block Bookings
The University of Manchester is not currently accepting further events and block bookings for Wythenshawe Sports Ground. If you are interested in hosting an event or regular booking at the site, please contact us and we will respond to your enquiry.
Join online
Bookings are no loner available online for this site.
Book facilities
The university of Manchester is no longer taking booking for this site
Sport and Activities
UoM Sport are no longer operating Wythenshawe Sports Ground.
For all enquiries please email sport@manchester.ac.uk
Address
Wythenshawe Sports Ground
Willenhall Road
Wythenshawe
M23 0BD
Contact Us
sport@manchester.ac.uk