Armitage Sports Centre
Home of UoM Sport. Located in the heart of the Fallowfield campus, the facility is right at your doorstep.
About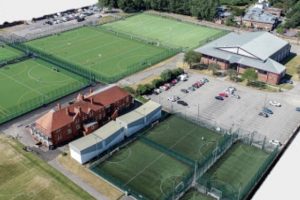 The Armitage Sports Centre is home to many of the University of Manchester sport clubs and community teams, being the perfect place to train on our wide range of high quality spaces, including our new full size floodlit 3G pitches installed by SIS Pitches.
Alongside this, we have a split level fitness suite which holds an extensive list of excellent equipment that you can use with purchase of a membership.
You can also participate in a range of individual stimulating activities such as football, badminton, squash, netball, table tennis, basketball and much more.
From Sunday 1st August 2021 all gym and class visits must now be booked online.
To make an online booking you must first register for online bookings. To register, please visit the link below to our online bookings page and follow the simple instructions. All you need is your membership / student / staff ID card.
We have limited capacity in our gym and classes and so please book in advance to avoid disappointment. – Book your session NOW
Indoor Facilities
Double sports hall
Squash courts
Fitness Suite
Studio
Conference and meeting facilities
Outdoor Facilities
4 floodlit artificial turf pitches
1 full size floodlit 3G football pitch
1 full size floodlit 3G rugby pitch
4 floodlit 3G 5-a-side pitches
2 outdoor grass football pitches
1 floodlit Multi-use games area (tennis, basketball, sprint track)
Opening hours
Normal Opening Hours
Monday – Friday: 0700 – 2230
Saturday: 0830 – 1930
Sunday: 0830 – 1930
Public Holidays – CLOSED
Prices
Indoor Sports
UoM Student*
Staff & Other Student
Public
Off-Peak
Badminton (Max 4 people)
£7.00
£9.00
£10.00
£5.00
Badminton Extra Person
£1.70
£2.20
£2.50
£1.20
Squash (45 mins)
£4.20
£5.30
£8.30
£3.00
Table Tennis
£3.80
£4.80
£5.20
£3.20
Half Sports Hall
£30.00
£42.50
£52.00
£17.50
½ Basketball/Netball
£15.50
£22.00
£27.00
£9.00
Full Double Sports Hall
£60.00
£85.00
£104.00
N/A
Off Peak prices apply Mon-Fri 08:00-16:00 for pay and play activities only
All indoor courts are 55 minutes unless otherwise stated.
Indoor Room Hire
| | | | |
| --- | --- | --- | --- |
| | Student* | Staff* | Public |
| Activity Room – Large (per hour) | £30.00 | £35.70 | £38.00 |
| Activity Room – Small (per hour) | £22.00 | £25.00 | £30.00 |
Outdoor Sports
Student*
Staff*
Public
Off-Peak
Tennis (55 mins)
£7.00
£8.00
£9.00
£5.40
Basketball – 1 ring (55 mins)
£7.00
£8.00
£9.00
£5.40
3G 5-a-side
£30.80
£37.40
£44.00
£21.00
Full Synthetic Pitch
£44.50
£55.30
£65.00
£34.00
½ Synthetic Pitch
£24.50
£29.80
£35.00
£21.00
Full 3G Pitch (Rugby/Football)
£57.00
£65.50
£77.00
£46.20
½ 3G Pitch
£28.70
£36.00
£41.00
£24.60
Off Peak prices apply Mon-Fri 08:00-16:00 for pay and play activities only
All outdoor pitches are 60 minutes unless otherwise stated.
Fitness Items
Please see Fitness Membership Pages for Details
*Student prices are available to current college/university students who register with a valid student ID card. We do not accept NUS Extra cards as proof of student status. Staff prices are available to UoM Staff and UoM Alumni who register with a valid UoM ID card.
We are committed to providing you with an exceptional customer experience at all of our facilities, and would welcome any questions or concerns to be directed to sport@manchester.ac.uk
This page contains the current centre prices from 1st August 2021. If you require more information please don't hesitate to contact us.
Events and Block Bookings
As the main sports venue for the University of Manchester, we provide modern facilities that can accommodate all of your sporting & event needs. With links to University accommodation and catering services, and a wide range of spaces available both indoors and outdoors, the Armitage Sports Centre is perfect for your next event.
If you are enquiring about holding an event or making a block booking at the Armitage Sports Centre, you will need to get in touch with our bookings team armitage.bookings@manchester.ac.uk
So that we can process your enquiry as quickly as possible, please download and complete the appropriate form(s) for your enquiry from the quick links section and email them to us. Information about the spaces we have to offer and our price tariffs can be found on this page, however if you cannot find the information you are looking for, please get in touch and we will do our best to assist.
Car Parking
Parking
Car parking is available for all users of the centre. A free parking period of 3 hours allows for people to attend the centre for activities without any charge.
| | |
| --- | --- |
| Time | Price |
| 0-3 hours | Free |
| 3-6 hours | £2.50 |
| 6-10 hours | £3.50 |
| 10-24 hours | £4.50 |
All users of the car park are asked to ensure they purchase a ticket through PayByPhone for both paid and free sessions and park in a designated bay. This will support the centre in ensuring that adequate parking is available for people attending the facilities.
Accessibility
Disable Access
Disabled Changing
Disabled Parking
Disabled Toilets
Lift (Armitage Sports Centre Only)
The Firs Pavilion does not have a lift and therefore only part of the building are accessible.
Join online
Join the Armitage Centre to use the gym, classes and get other membership benefits.
Book Online
Gym, Class, Physiotherapy session booking and cancellation T&Cs apply
Sport and Activities
See the sport and activities we have available at the Armitage Centre and more widely across UoM Sport.
Address
Moseley Road
Fallowfield
Manchester
M14 6PA
United Kingdom
Contact Us
0161 306 9988
armitagecentre@manchester.ac.uk