Get in touch
Get in touch with us at UoM Sport to ask us questions around what is available for your sport and physical activity journey.
About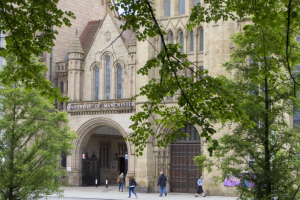 UoM Sport is the home of university sport and we are keen to support you being more active at whatever level is right for you.  If you are struggling to find the information you need, want to ask us something or just generally get in touch, we would love to hear from you.
If you are wanting to find us on campus, we are directly opposite the students union so please contact us online or come to see us.  Our office is open Monday to Friday 0930 – 1630.
Facebook
Message us or visit our page for what is going on in @UoMSport.
Twitter
Tweet us your comments, feedback and stories to @UoMSport.
YouTube
See our latest videos including workouts, information and stories of what is happening in @UoMSport.
Instagram
See the latest happenings on our instagram stories with @UoMSport.
Address
UoM Sport Head Office
The University of Manchester
c/o Students' Union
First Floor
Steve Biko Building
Oxford Road
Manchester
M13 9PG
Contact Us
0161 306 9988
sport@manchester.ac.uk