Sport Leagues
A range of leagues, events and competitions to get involved in.
About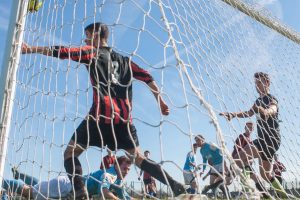 Sport Leagues are a great way to play the sport you love in a friendly social environment. There are longstanding teams and sports that have a great tradition in the leagues which you can be part of. However, there is always space for new teams and new sports!
May update: Limited recreational sport returns
Don't let the current restrictions stop you being active! 
As we ease out of restrictions UoM Sport is offering a limited programme of recreational sport for those teams that missed out on so much this year. The recreational sport is aimed to end on 13th June, in line with the end of semester. The Sport leagues will be back and better than ever next year with some exciting new additions, including Volleyball, Table Tennis and Pool!
To stay active over the summer period please visit our Sporticipate page for a free summer timetable of activity and access to our Household Sport offer.
Offer
Over 150 teams across 8 different sports leagues.
Full fixture schedule and structured divisions spread over the academic year.
Fun, social environment to play the sport you love.
Meet new people and find exciting new ways to socialise through sport and activity.
Leagues are student lead and managed by student league coordinators.
Teams made up of staff and students, representing faculties, schools, departments, residences, societies, or friendship groups.
Be part of university history. Represent your hall or department.
Annual recognition of achievement.
Opportunity to compete in external competitions.
Current Leagues and Sports
There are eight Sport Leagues for you to join.
| | | | |
| --- | --- | --- | --- |
| Sport | Location | Day | Time |
| Netball – Div 3 (Women's) | Sugden Sports Hall B | Tuesday | 18:00-22:00 |
| Netball – Div 1&2 (Women's) | Sugden Sports Hall A&B | Wednesday | 18:00-22:00 |
| 11-a-side Football (Men's) | Wythenshawe Sports Ground | Wednesday | 14:00-16:30 |
| Rugby Union (Male Only) | Armitage 3G Pitch F | Sunday | 12:30-16:00 |
| Hockey (Mixed) | Armitage Astroturf C&D | Sunday | 16:30-19:30 |
| 6-a-side Football (Women's) | Armitage 3G Pitch F | Thursday | 18:00-19:30 |
| Futsal (Men's) | Sugden Sports Hall B | Friday | 17:00-20:00 |
| Volleyball (Mixed) | Armitage Sports Hall A | Friday | 17:30-19:30 |
| Basketball (Mixed) | Sugden Sports Hall A&B | Friday | 20:00-22:00 |
How to register and enter/join a team
Teams expected to register at the start of the year and pay before the start of fixtures (varies across leagues).
Pre-register your team here for the upcoming season (Free).
Don't have a team? Don't worry, register as an individual here and we will find you a team.
*COMING SOON* Purchase your league place here.
Useful information about payments – There is a variety of payment methods that need to be confirmed if you wish to enter a team into the Sport Leagues.
Society teams – Contact the Students Union to arrange payment.
Residential teams – Provide confirmation from the Residents Association/Junior Common Room associated with your team to confirm payment.
Departmental, Faculty, School, Course teams – Provide confirmation from the staff contact associated to your team to arrange payment.
All other teams – Pay via the online store – Link coming soon.
Any other queries please email andrew.ellison@manchester.ac.uk
Fixtures and Results
Playwaze is the league management application that is used to run all our Sport Leagues.
Mobile app available on Android and iOS devices
Quick and easy to register, keep up to date with all the fixtures and results for your team, along with the entire programme of competition
Click here to visit the Playwaze site and search for 'The University of Manchester' to join the community.
Tournaments and Events
Fun competitions in addition to regular fixtures, normally played towards the end of the year over a single day.
Weekend Cup and Shield competitions (11-a-side Football only).
Another chance to get your teams name on an annual trophy.
Themed competitions, such as fancy dress, or joint events with Manchester Metropolitan University.
Hall of Fame
Winners of leagues & competitions 18/19
11-aside Football
Prem – Manchester Medics F.C
Div 1 – Physics FC
Div 2 – MACE Athletico
Div 3 – BSc Economics
Div 4 – Owens Park 3
Roy Little Cup – Owens Park 1
John Hadwin Shield – Athletico ACS
Hockey
Div 1 – Medics 1's
Div 2 – MULS
Tournament Winners – Medics 1's
Tournament Shield winners – Tri-Services 2
Netball
Div 1 – StaffNet Scarletts
Div 2 – Whitworth Park
Div 3 – Ashburne & Sheavyn
Tournament Cup – Medics 1's
Tournament Plate – StaffNet Scarletts
Rugby Union
League Winners – Liverpool Engineers
Bowl Winners – Physics Rugby
Tournament Winners – MMU
Basketball
Division 1 Winners – MARS
Division 2 Winners – EEE
Tournament Winners – MARS
Futsal
League Winners – Some Team
Womens Football
League Winners (semester 1) – Marching on Together
Division 1 Winners (semester 2) – Athletico R'Kid
Division 2 Winners (semester 2) – Longford Park
Employment Opportunities
Sport League Coordinators
Each year UoM Sport recruits energetic sports enthusiasts to assist the Recreational Sport Coordinator with running the Sport League programme for the academic year.
League coordinator positions are available in the following sports:
Netball x 2– Sugden Sports Centre, Tuesday & Wednesday (eve)
Rugby – Armitage Centre, Sunday (eve)
Basketball –Sugden Sports Centre, Sunday (afternoon)
Football x2 – Wythenshawe Sports Ground, Wednesday (afternoon)
Mixed Hockey – Armitage Centre, Sunday (eve)
Futsal – Sugden Sports Centre, Friday (eve)
Womens Football – Armitage Centre Thursday (eve)
The main responsibility of these roles is to manage and maintain the designated Sport league on each of the fixture dates throughout the academic year as the representative from UoM Sport.
These roles are open to students of the University of Manchester and are paid 'casual' roles as per the UoM pay structure. Please note, these roles are not eligible for the Stellify award.
Applications for the 21/22 year will be advertised here soon!
If you would like this as your new challenge please tell us in no more than 500 words 'Why do you want to be Sport League Coordinator and what do you feel you could offer to the role.' And send this along with your CV.
Full details of the role along with job and person specifications can be found on the careers link website : http://www.careers.manchester.ac.uk/careerslink/ under the title 'Campus Sport Coordinator'
Questions and applications should be sent via email to: Andrew.ellison@manchester.ac.uk
Officiating
As an official you will build skills and earn money being part of a sport that you love!
All officials are paid to oversee fixtures.
Mentoring and development available across all leagues.
Links with external competitions for further development and potential income.
Funding available to gain qualifications through UoM Sport.
Social and recreational Sport Leagues offer a relaxed environment to help build confidence and develop new officials
To find out how you can get involved email andrew.ellison@manchester.ac.uk
Find a Team
Don't have a team? Don't worry, register as an individual here and we will find you a team.
Sport League Schedule
*COMING SOON* Full timetable of weekly fixtures available here
Volunteer within our leagues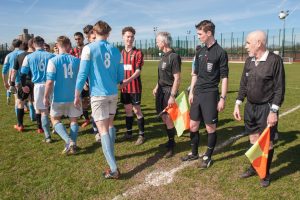 With a number of teams in each of the activities which are included in the Sports League offer, there are many opportunities for individual who have played in these teams to become captains or organisers within the teams.
The roles of Team Captain and Team Organiser fall in the category of UoM Sport Leaders. This means that for those Undergraduate undertaking the roles that register their volunteering via the Sports Volunteer Scheme ;
a) Their hours will be recorded on HEAR
b) When they have logged 25 or more hours and complete a session of mandatory training ( usually the Club Captains meeting in October) then they will be eligible for the Step up to Lead stamp as part of the Stellify Award.
Team Captains and Team Organisers in the Sports Leagues are appointed through being elected by the team which they will be serving.
To find out more contact: Andrew.ellison@manchester.ac.uk
Sport A to Z
View our A to Z of all the sports that we offer at Manchester.
Activities A to Z
Take a look at all the activities we offer to get you more active at Manchester.