News
All the news from across UoM Sport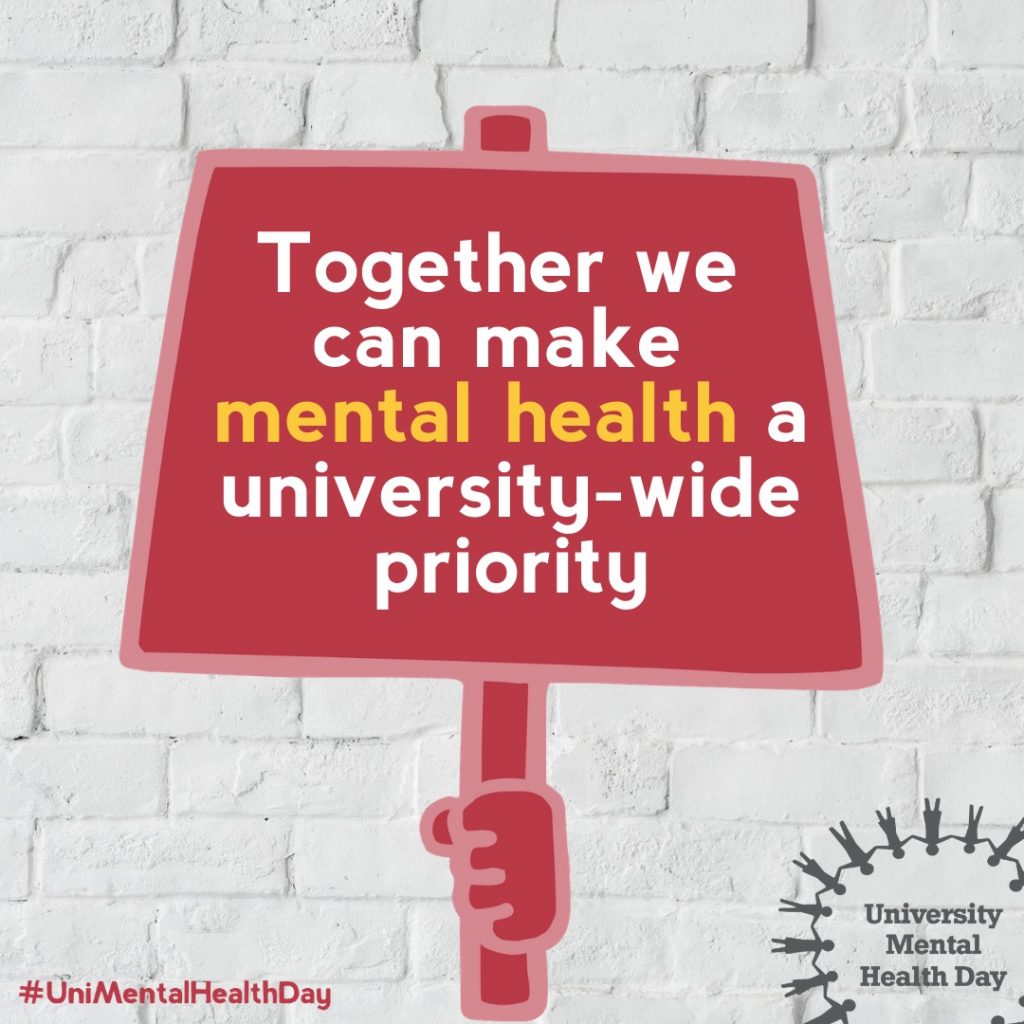 University Mental Health Day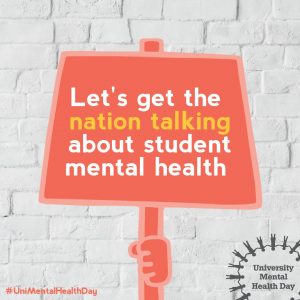 Thursday 4th March is University Mental Health Day, led by Student Minds. The aim is to bring together the university community to make mental health a university-wide priority and create ongoing change to the future of student mental health.
There are over 2.3 million students studying in UK universities, with many experiencing academic, social, and financial pressures. Being at university can raise a number of challenges to mental health and wellbeing, which have been exacerbated by the coronavirus pandemic. Roughly a third of students report psychological distress (Bewick, 2008) during their time at university. The difficulties posed by current circumstances, such as a student's ability to socialise and make friends, financial instability, and disruption to mental health care, have contributed to an increasing number of students accessing support services. The severity of distress and mental illness in young people has increased in the past year, but it does not need to be this way.
Student Minds
​Student Minds was started in 2009. Having experienced her own mental health difficulties at university, Dr Nicola Byrom set up the organisation aiming to make it easier for students with an eating disorder to access support. The first groups, run by trained student volunteers, were founded on the principles that everyone deserves easy access to support, and that talking to others can really aid the recovery process. In 2013, the charity merged with Mental Wealth UK, a network of student-led campaign groups helping students to become more aware of the importance of mental wellbeing and to encourage conversations about mental health.  Student Minds has grown significantly over the years, supporting students with a range of mental health difficulties, and working with all members of the university community to promote positive wellbeing.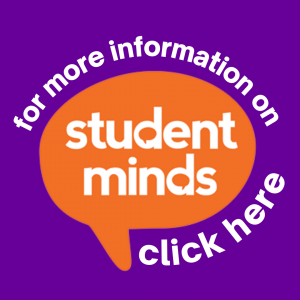 There are practical ways we can work together to achieve this change. Whilst awareness is increasing, there is a lot more to be done to address the existing gaps in knowledge, mental health literacy and the support available for students. UoM Sport are committed to supporting the mental health needs of its students and improving wellbeing. On Uni Mental Health Day we will speak out about mental health in sport and raise awareness of the issues many students face. We will be looking at the ways that some high-profile sports people have struggled with, and managed their own mental health, and thinking about the way that sport and exercise can improve our mental health and wellbeing.
---
Exercise and Mental Health
Physical activity can be really beneficial for one's mental wellbeing. Studies and research show that exercise and physical activity can: 
Improve mood. Overall, research has found that low-intensity aerobic exercise – for 30–35 minutes, 3–5 days a week, for 10–12 weeks – was best at increasing positive moods (e.g. enthusiasm, alertness).
Reduces stress. Physical exercise can be very effective in relieving stress. Research on employed adults has found that highly active individuals tend to have lower stress rates compared to individuals who are less active.
Increase self-esteem. The relationship between physical activity and mental health has been reported in children, teenagers and adults.
Reduce depression and anxiety. GPs now often prescribe physical activity for depression, either on its own or together with other treatments.
Information taken from Sport England.
---
Lockdown and Wellbeing
While there are no 'top tips' to good mental health that work for everyone, here are 5 ways in which incorporating a healthy lifestyle can help with improving your wellbeing during lockdown: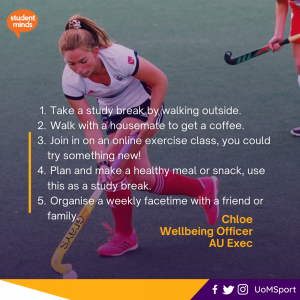 Take a study break by walking outside.
Walk with a housemate to get a coffee.
Join in on an online exercise class, you could try something new! Check out our zoom fitness classes here! 
Plan and make a healthy meal or snack, use this as a study break.
Organise a weekly facetime with a friend or family
"I've found that setting my alarm and going on a run with someone in the morning is a really good way to wake me up and keep connected with friends. It also helps with my productivity for the rest of the day!" Chlöe Irvine – AU Wellbeing Executive Officer
Student Space is run by Student Minds, it is designed to make it easier for you to find the support that you need, and navigate university life during the coronavirus pandemic.
For an overview of support services outside of your School and advice on accessing healthcare at the University of Manchester click here. 
Find out more about the 24hour service available to all students.
Elite Athletes on Mental Health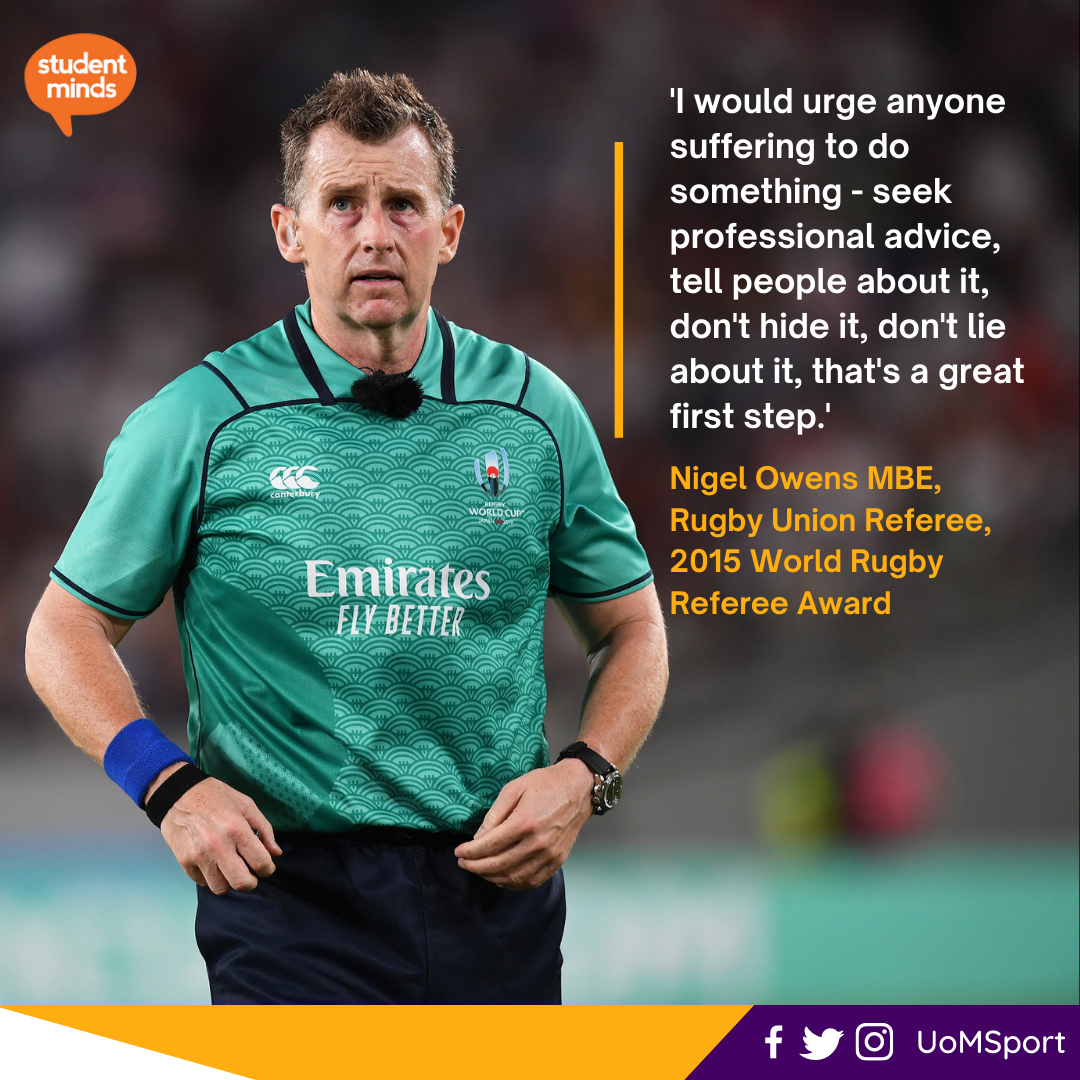 Nigel Owens MBE
Rugby union referee Nigel Owens currently holds the world record for the most test matches refereed, refereeing the RWC Final 2015 and winning World Rugby's Referee Award. In 2007 he came out and has since spoken widely about the struggles he faces as a gay man and with his own mental health.
'I would urge anyone suffering to do something – seek professional advice, tell people about it, don't hide it, don't lie about it, that's a great first step.'
Follow the link below to full BBC News Article (TW eating disorders and suicide).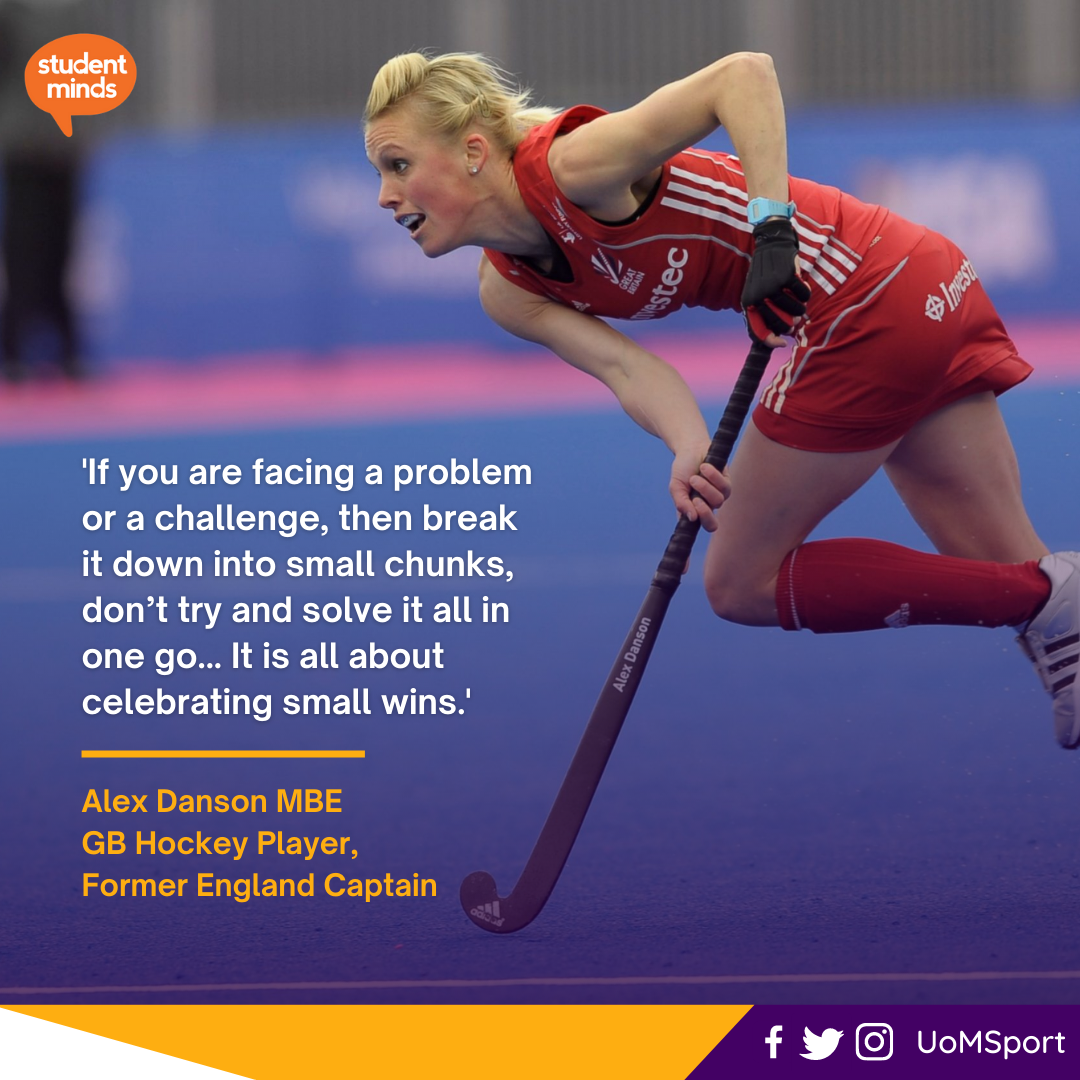 Alex Danson MBE
Alex Danson is a retired English international field hockey player who played as a forward for England and Great Britain. Winner of Olympic bronze and gold medals (2012 & 2016), Danson was announced as the England Women's Hockey Captain in June 2017 and led the team through to the last four in the semi-finals of the world league.
'If you are facing a problem or a challenge, then break it down into small chunks, don't try and solve it all in one go… It is all about celebrating small wins.'
Click button below to read more about Danson and her struggles with mental health and a head injury.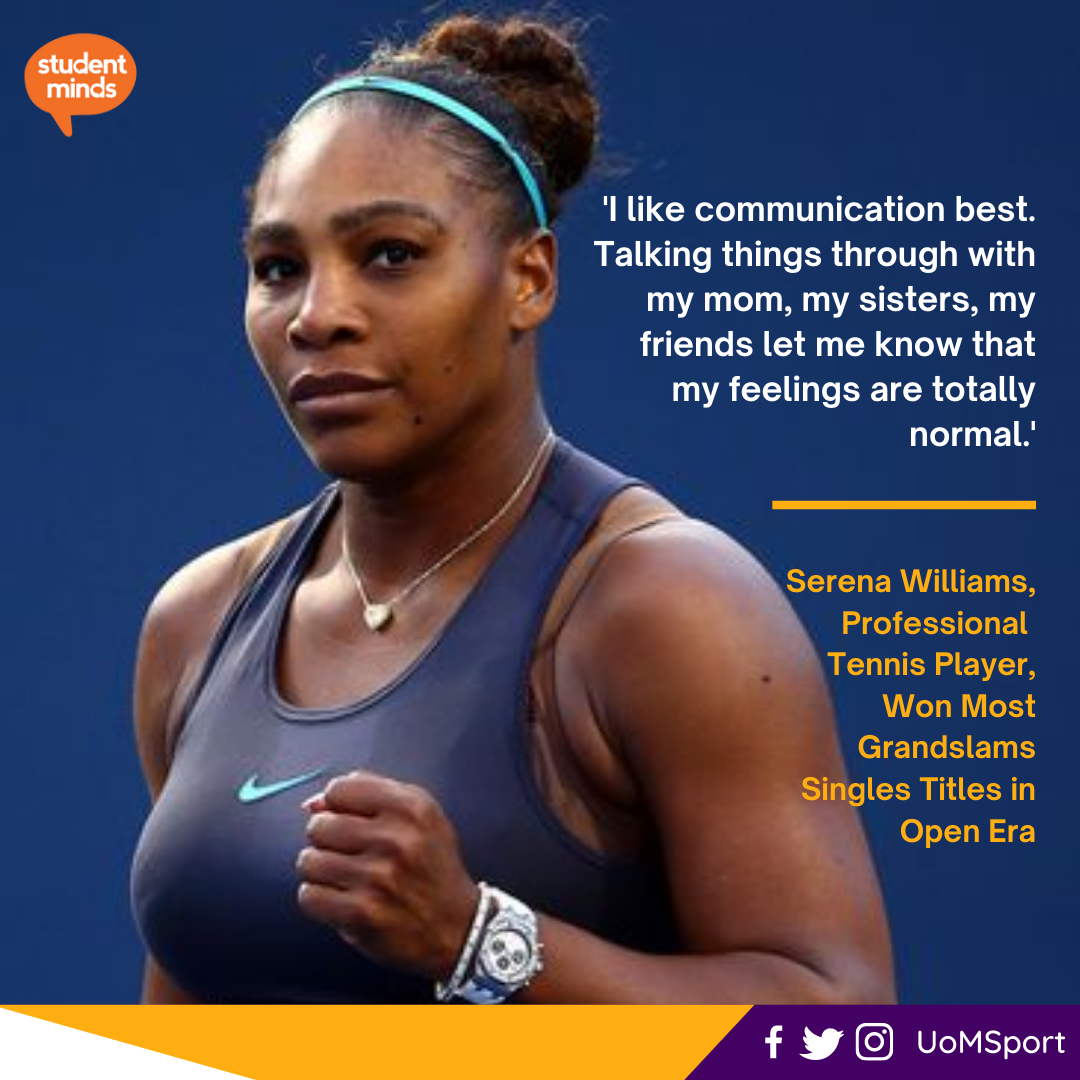 Serena Williams
Serena Williams is the most successful player in the Open Era, winning 23 Grandslam singles titles. However, injury and losses have taken a toll on her mental health. She has also been very open in discussing her struggles with post natal depression following birth of Olympia. 
'I like communication best. Talking things through with my mom, my sisters, my friends let me know that my feelings are totally normal.'
Click below to read more.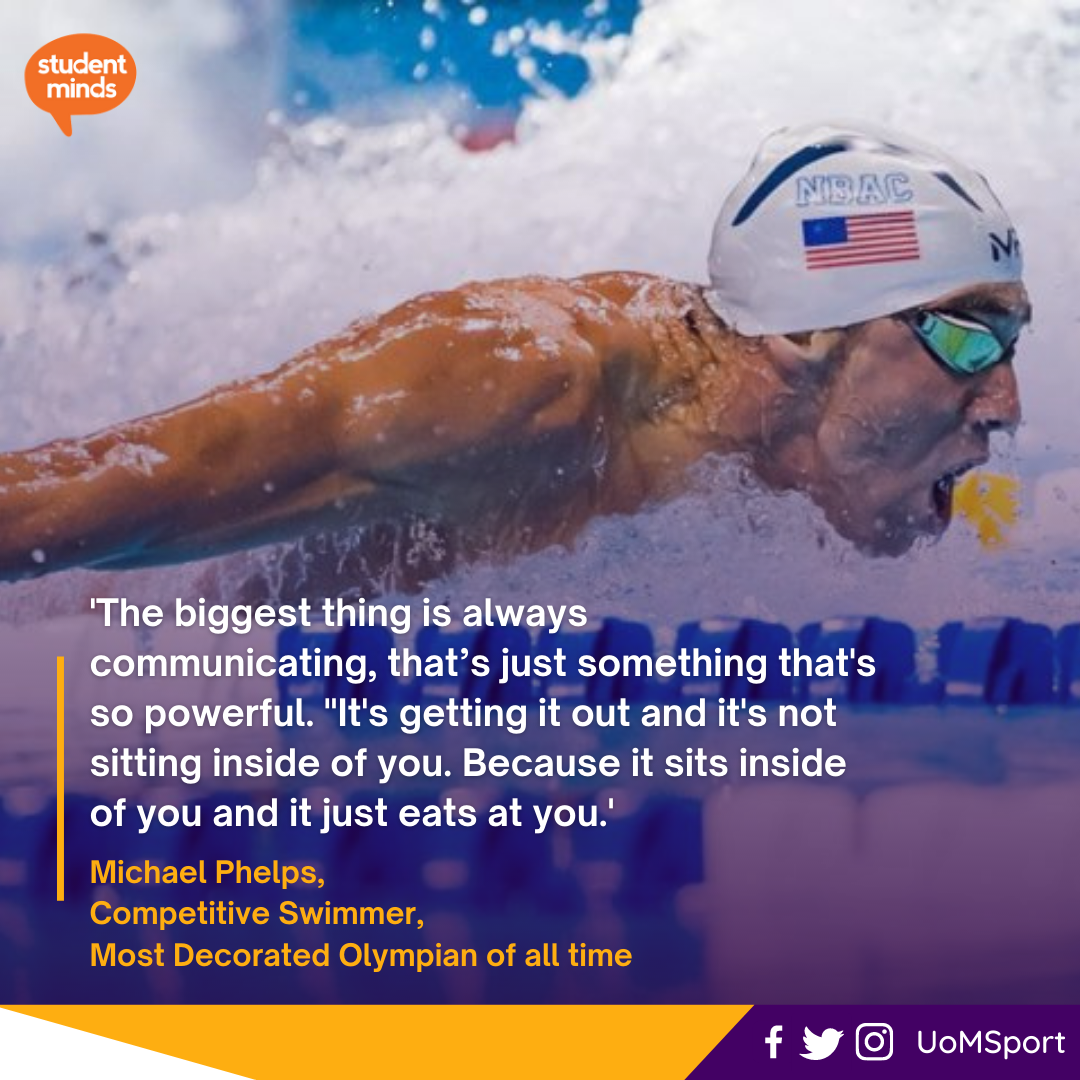 Michael Phelps
Michael Phelps is the most successful and most decorated Olympian of all time. In January 2018, Phelps revealed that he has struggled both with ADHD and depression.
'The biggest thing is always communicating, that's just something that's so powerful. "It's getting it out and it's not sitting inside of you. Because it sits inside of you and it just eats at you.'
Read more below.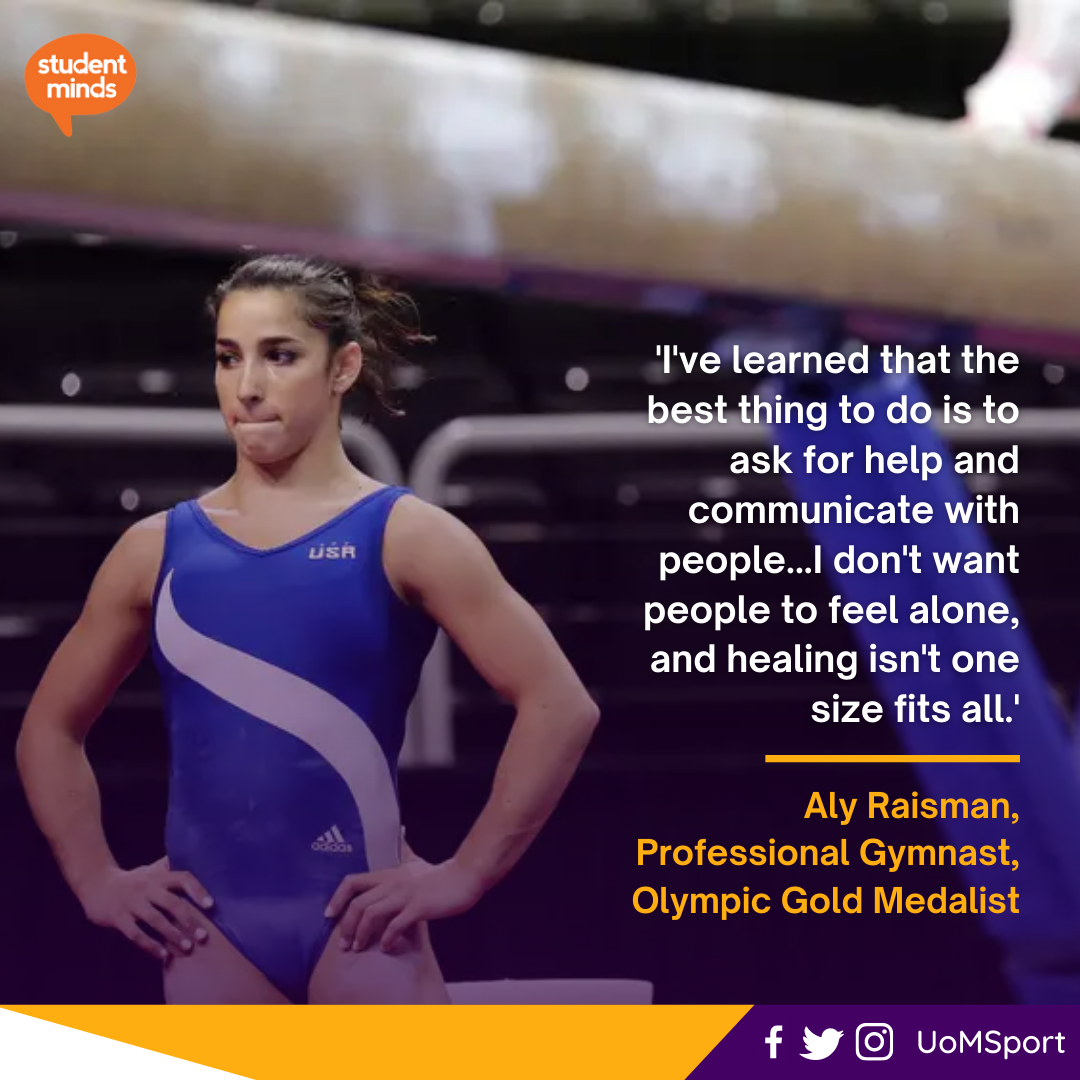 Alison Raisman
Alison Raisman is a retired American gymnast and two-time Olympian. She was captain of both the 2012 and 2016 U.S. women's Olympic gymnastics teams, which won their respective team competitions. Raisman is the 2016 Olympic individual all-around silver medalist and the floor exercise silver medalist. She came forward in 2017 as a victim of Larry Nassar. 
'I've learned that the best thing to do is to ask for help and communicate with people…I don't want people to feel alone, and healing isn't one size fits all.'
Read more below. TW abuse.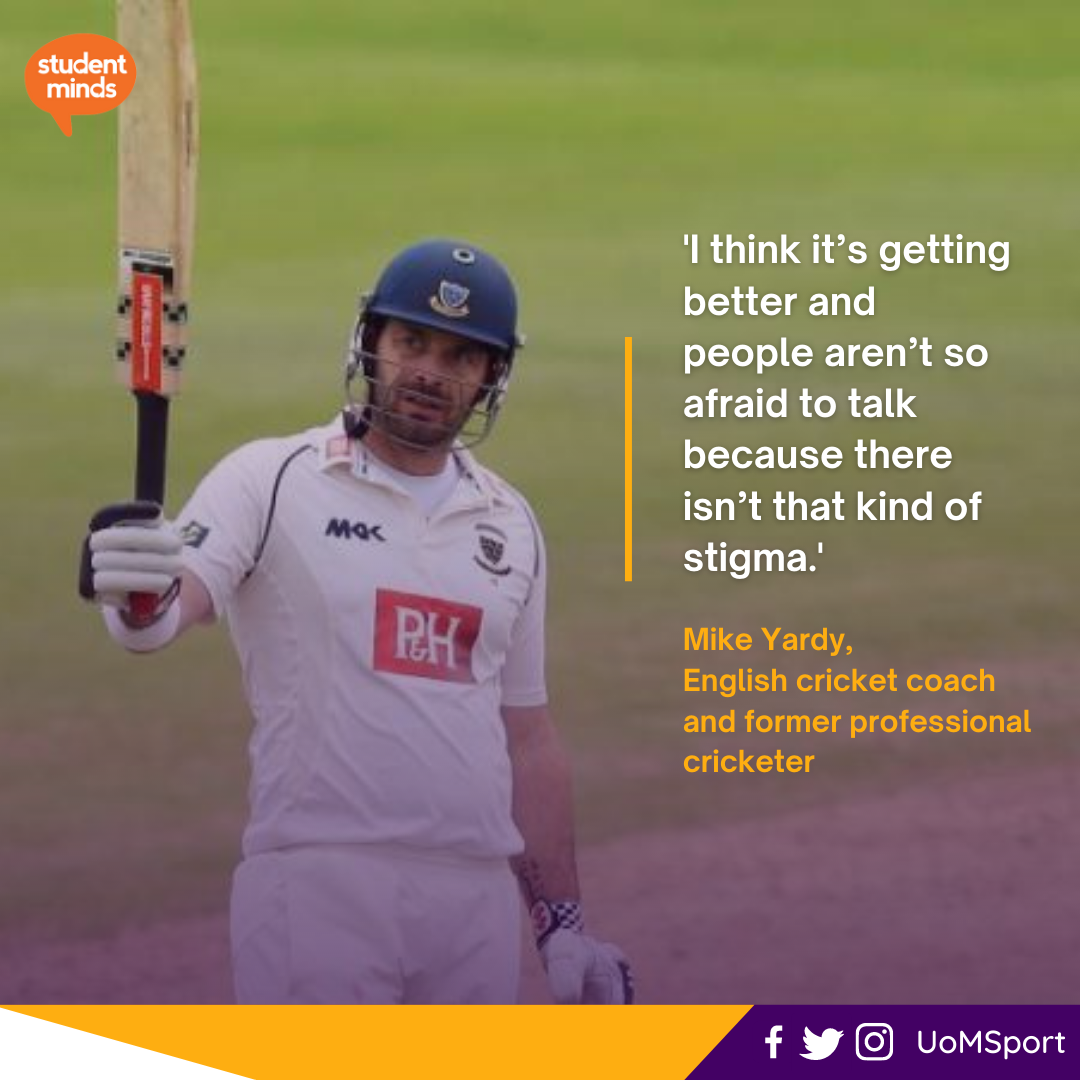 Mike Yardy
Mike Yardy is an English cricket coach and former professional cricketer who played limited over internationals for the England cricket team between 2006 and 2015. He has suffered from depression and OCD. 
'I think it's getting better and people aren't so afraid to talk because there isn't that kind of stigma.'
More about Student Minds. Find out more about Student Space and the support available to students here.