News
All the news from across UoM Sport

UoM Sport continue to support #StayInWorkOut
UoM Sport are continuing to provide a range of opportunities for the Universities students, staff, and wider community, to get active and look after their health and wellbeing whilst at home. Over the last month over 10,000 minutes of activity has been viewed on the UoM Sport YouTube channel and over 25 exercise sessions have taken place on Facebook and Instagram.
Coming up over the next couple of weeks the campaign will include a number of short videos from the Universities Scholars who will be demonstrating a range of Strength and Conditioning activities they have been keeping up with whilst away from campus. As well as this we will have daily challenges, live workouts and session people can do at any time on our YouTube Channel.
On Friday 5th June our Senior Fitness Instructor Matt will be taking over the University of Manchester Facebook page and delivering a live workout at 12.20pm.
The campaign will continue to support the wellbeing messages shared each week. As well as continuing to grow the online community through the My Wellness App and Facebook.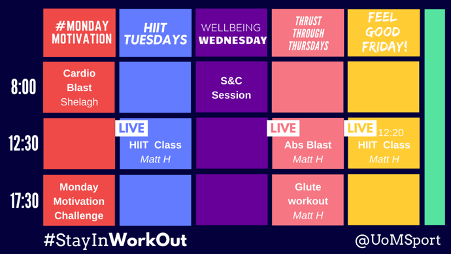 To follow the #StayInWorkout campaign follow Twitter: @UoMSport  Facebook: UoM Sport Instagram: @UoMSport