News
All the news from across UoM Sport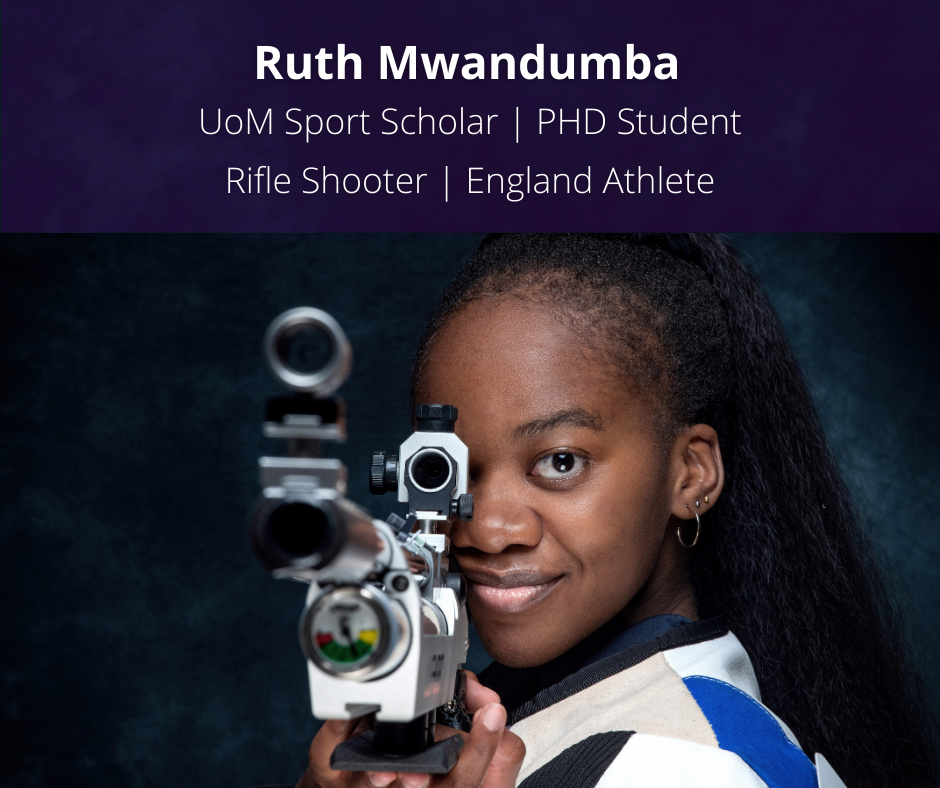 Ruth Mwandumba – UoM Sport Scholar
Ruth Mwandumba is a Rifle Shooter, winning gold, silver and bronze medals at the Commonwealth Shooting Championships. Ruth is currently studying a PhD at the University of Manchester and is also a UoM sport scholar.
Read below as Ruth discusses how she began Rifle Shooting, the barriers she has overcome and the experiences she has had. This is the first interview in a series of interviews with our UoM sport scholars where we ask what barriers our athletes have overcome to reach elite sport level, here Ruth discusses the microaggressions she has faced as a black rifle shooter and what Black History Month means to her.
How do you get in to Rifle Shooting?
I first got in to shooting through army connect at school they used to take us on a few camps across the country and shooting was one of the activities we got try there.
What has been the highlight of your sporting career so far?
There have been a few different highlights throughout my career but I would say the main ones were becoming English champion in 2018 and also taking home gold, silver and bronze at the Commonwealth Shooting Championships, European division.
Have you faced barriers in your career as an athlete?
One of the main barriers I faced coming in to the sport was the fact I entered as a senior and the majority of my teammates were juniors when they first started and had been doing it a lot longer than I had, with more experience. As much as it was a barrier it also motivated me to push harder so my scores would increase quicker.
Recently you were part of BBC Sports discussion on microaggressions within sport. Could you tell us more about the microaggressions you have faced and how they've made you feel?
Most of the microaggressions I have had used towards me are always to do with the fact that I am a black shooter and the correlations have always been made between that and gun violence. It's never nice to hear and when I hear comments like that it almost feels like society is taking a step back and it makes me feel de valued as a person and as though people don't see my worth.
What does Black History Month mean to you?
Black History Month is always an important time of year for me because not only does it give me an opportunity to learn about my history and my culture but it also gives people who aren't in the black community an opportunity to learn about black British history which they might not have a chance to learn about at any other time of the year. I also use it as a time of reflection to think really hard about where my family come from and my origins and the sacrifices they have made to give me the opportunities I have today. I'm incredibly proud to call myself black British because it's a duality that once upon a time would have been deemed impossible.
What advice would you give the UoM sport community?
I think that one thing that we as a community can do to increase inclusion and diversity in sport is to continue to promote that sport is for everyone no matter where you come from no matter your ability or what you look like. I think if we continue to promote that both in person and on social media platforms the more the message will come across to people.