News
All the news from across UoM Sport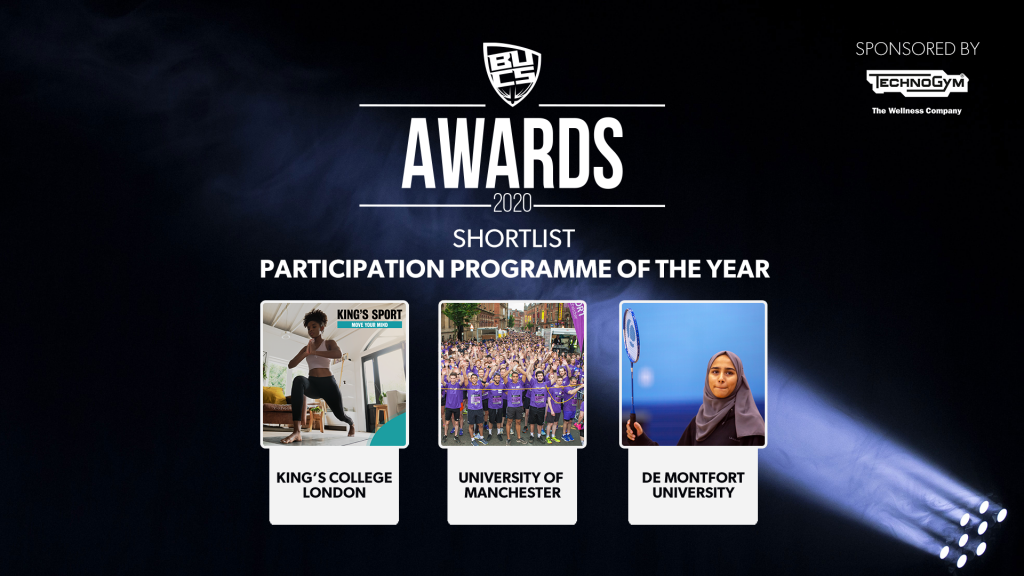 UoM Sport Shortlisted for BUCS Participation Award
We are delighted to announce that UoM Sport have been shortlisted for the BUCS Participation Programme of the Year Award 2020, recognising our achievements in providing a range of high quality activities to get students and staff active in the 12 months from May 2019.
UoM Sport pride ourselves on delivering a wide range of programmes and campaigns, all with a specific purpose to engage targeted audiences. Our nomination recognises the general growth in participation alongside the increase in our Net Promoter Score and highlights some key initiatives from that period including:
A new ResFit offer, providing off-peak gym memberships for those in halls of residence for the first semester. The project saw 1,623 students activate and regularly use the gym with 66% going on to retain a membership in the 2nd semester.
Our beginner campaign (Sporticipate) continuing to generate strong engagement through 70+ hours of free activities each week, a range of 6-8 week 'Learn to' programmes and campaigns throughout the year largely led by over 80 student volunteers.
A Be Active programme delivering over 50 weekly fitness classes to more than 1,100 unique users.
A recreational Campus Sport programme delivering 2 additional competitions which now covers 8 sports, 160 teams and nearly 2,000 participants. 
In May 2019, in partnership with Great Manchester Run and internal University departments, we coordinated the UKs biggest ever University entry in to a 10k event. Our 'Purple Wave' saw over 2,800 staff, students and alumni take part in one of our running events, raising tens of thousands of pounds for University charitable causes.
During lockdown, providing a #StayInWorkOut offer online with live classes and sessions via our social media platforms and YouTube Channel. In March and April alone, we saw an increase of 638 followers across all platforms with over 10,000 minutes of videos played through Facebook.
The nomination is recognition of the huge efforts all staff, committee leaders, instructors, coaches and volunteers make to help deliver Sport and Physical Activity opportunities across the University each year as well as the near 20,000 students and staff who take part in at least one of our activities.
A huge thank you to all of you who have played a part!
All BUCS award winners will be announced from 5pm on 8th December, so keep your eyes peeled on the @UoMSport social channels or @BUCSsport on Twitter or LinkedIn.