News
All the news from across UoM Sport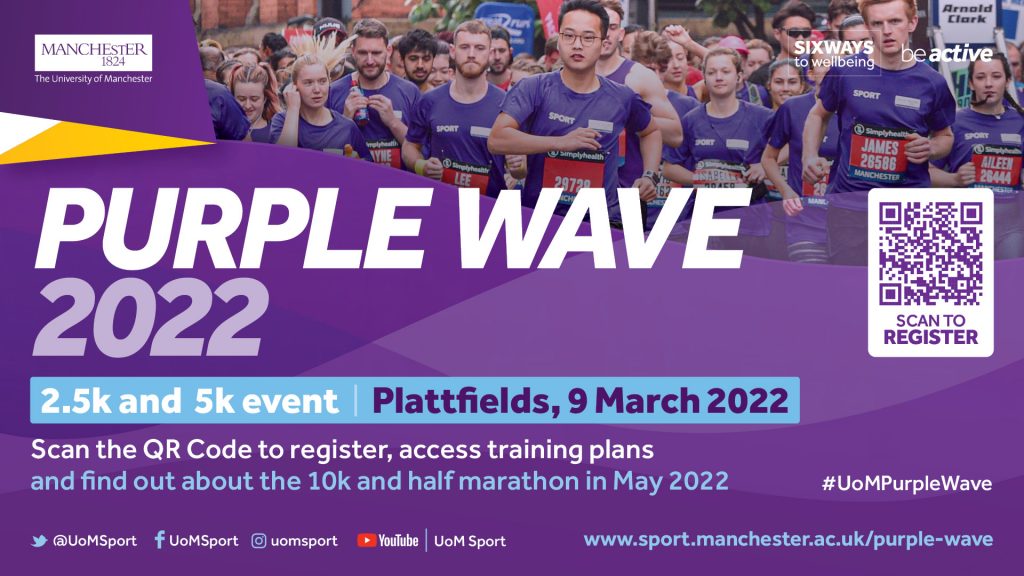 2.5K & 5K PurpleWave Event
UoM Sport is delighted to announce the return of the 2.5K & 5K PurpleWave event. 
On Wednesday 9th March 2022, in partnership with the Great Run Company we are hosting a 2.5K & 5K event at Platt Fields. We want as many staff and students running, walking or jogging, joining us as we host our first mass participation event since 2019! It doesn't matter if you have never taken part in an organised run before or if you are a seasoned runner this event is for everyone. 
This year we are working with the UoM Run Wild society to promote this event as well as wider running opportunities. Registration is via the Students Union website under the Events sections. To go direct to the registration page click this link, entry costs £3 (+£5 if you would like to purchase a purple t-shirt to run in). 
Once registered you will receive further event day information, have access to training plans and support and hear first hand about future PurpleWave events. 
If you would like to volunteer to support the event please visit our Volunteering in sport page for all details on how to get involved. 
Any enquires please contact: purplewave@manchester.ac.uk or pop in to the Sport office, located on the 1st floor of the SU.